How to Buy and Send Discord Nitro Gift? A Complete Guide
If you want your friends to express themselves with unique emojis or send large files on discord, you can send them a discord nitro gift as a monthly or yearly subscription.
Do you know someone who uses discord often but would not budge getting a discord nitro for himself? Such friends are common, and you can now give them a discord nitro gift subscription, which they can use to enhance their overall Discord usage.
In this article, we will guide you on how you can buy a discord nitro gift for your friend and how you can redeem a discord nitro gift for yourself if someone pays for your subscription.
What is Discord Nitro Gifting?
Discord is a top-rated instant messaging app with over 150 million active users. It offers a fun and intuitive way to communicate with your friends and stay in touch. And you can further enhance your Discord experience using Discord Nitro, which is a paid subscription. With Discord Nitro, you get the option to send larger files, customize your profile, use an array of custom emojis and do so much more.
But because Discord Nitro is a paid service, many users may not be willing to spend the money for it. And that is where Discord Nitro Gifting comes into play, which is a service that allows you to purchase a month's or year's discord nitro subscription, and instead of using it for yourself, you can gift it to other discord users.
How to Gift Discord Nitro?
The actual process of giving someone a Discord Nitro is fairly simple. You can complete the process in just a few steps. Below is a detailed step-by-step guide on how you can gift a Discord Nitro using your phone or desktop computer.
On Desktop:
If you are using a Mac or Windows device, follow the steps below to buy Discord Nitro Gift for your friend:
Step 1: Download and install the Discord app on your device or using a web browser with the Discord website and log in to your account.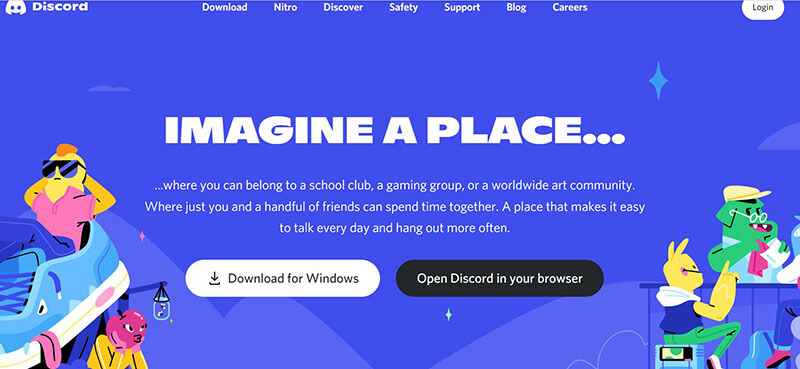 Step 2: Next, click the gear icon on the bottom left side of the app to open 'User Setting.'
Step 3: Under the "Billing Settings" section, tap on the Discord Nitro option.
Step 4: You should now be redirected to a new page similar to the image below. Now choose the "Gift" option.
Step 5: Put your card details in and choose whether you want to buy a 1-month or 1-year plan.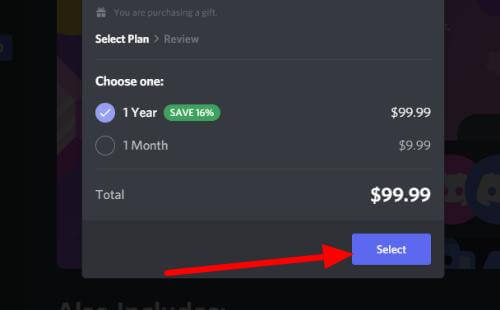 Step 6: Now press the "Buy Gift" button.
On Mobile:
You can follow the steps below to gift Discord Nitro if you are on a mobile device (Android and iOS).
Step 1: Download and install the Discord mobile app from Playstore/Appstore and login into your account.
Step 2: Next, tap on the hamburger icon on the top left of the channel to open the menu.
Step 3: On the bottom right, you will find your profile avatar, press on it to open "user setting."
Step 4: Next, scroll down to the "Nitro Settings" section and tap on it.
Step 5: Choose the right plan, and you can proceed with the payment to complete the purchase.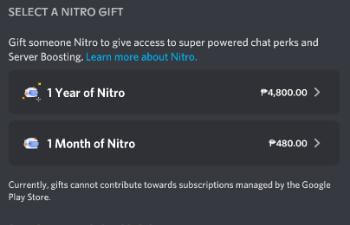 How to Send Discord Gifting to Your Friends
Sending discord nitro gifts to a friend is as simple as sharing a clickable link. Follow the steps below if you have any confusion.
Step 1: After you have paid for the discord nitro subscription, you should find a shareable link.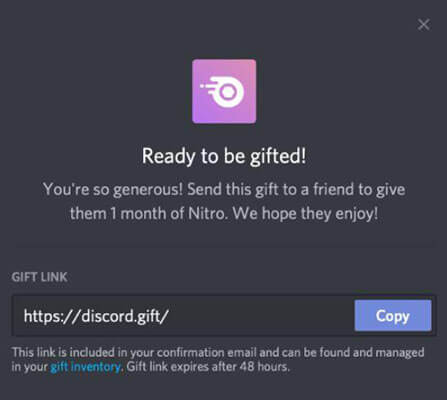 Step 2: Copy the link and send it via any platform to a Discord user who will be able to click on the link to avail of the gift.
How to Redeem Discord Nitro Gift?
If you are at the receiving end of a Discord Nitro Gift, here is a detailed guide on how you can claim your gift.
Link sent within discord.
If you are already logged in to your Discord account and received the Discord Nitro Gift link, follow the steps below to redeem your gift.
Step 1: Check your DM or server in discord and look for a green "Accept" button.
Step 2: Once you press accept, a new pop-up will appear to confirm your acceptance of the gift. You can press the "I accept" button in this confirmation window to apply the gift to your Discord account.
Link sent through other platforms.
However, if you received your link via email or through any other platform, you can follow the steps below.
Step 1: Click the gift link or directly copy and paste the link into any browser like Google Chrome or Safari.
Step 2: You will then be redirected to a Discord login/signup page. If you are already a Discord user, login into your account.
Step 3: Confirm the Correct Account, and if you want to accept the gift, you should see a warning pop up: "You are accepting this gift from [username]."
Step 4: If you agree, press the "accept gift" button to continue.
And that's it, you have successfully claimed your Discord Nitro gift.
What to Do If Discord Nitro Gift Not Working?
However, there are some instances where even after following the steps above, many users are greeted with an error when they try to redeem their discord Nitro Gift. There are several possible reasons behind this, some of which are discussed below.
Logging in from a smartphone: If you try redeeming your Discord Nitro Gift from a smartphone, you may encounter an error as currently discord only supports claiming Discord Nitro gifts through their desktop app and web app (using a browser). So just use your computer or browser to try again.
Using a wrong discord account: If you accidentally use the wrong account to redeem your gift, discord will not offer you compensation or a new code. So make sure you enter the correct account when signing in. Check for the 'You are accepting this gift as [account name]' to make sure you are signed in to the right account.
Add a credit card: Another reason for Discord Nitro Gift not to work is that discord made it compulsory to add a credit card to your account before claiming your gift. So, if you still need to, try connecting a credit card, but do not worry, discord will only deduct any balance if mentioned explicitly.
How to Tell If a Discord Nitro Gift is Real?
Getting a discord Nitro Gift can be exciting, however, if you receive a gift from someone you barely know, it is possible that you received a fake discord nitro gift link. There are many potential instances where scammers use discord nitro gift link generators to create links that look exactly like the real deal, but they are fake and are designed to lure you into clicking the link only to seal your personal information. So, watch out for some of these red flags when you receive a discord Nitro Gift.
Fishy Text Inside Links: The first thing to see if a discord Gift is real is to check the link carefully. It is most likely fake if it has some fishy text inside the link. Refer to this image as your discord Nitro gift should look something like this.
Check the sender: Discord Nitro is a paid subscription, so it is unlikely that someone random on the internet will send a gift link to you. Therefore, the best way to tell if a discord Nitro gift is real is by checking who the sender is. If it's someone you know, it is likely a gift; otherwise, it can be a fake link.
Conclusion
A discord Nitro gift is an excellent way to surprise your friend, especially if they use discord regularly. Discord Nitro offers several perks, including better emojis, Customization on profiles, larger upload sizes, higher quality video for streaming, better customer service, and more. However, there are instances where you may be lured into pressing a link that may jeopardize your security, as there are fake discord nitro gift links. So it is highly advised not to press any link sent from unknown contacts or look fishy.
FAQS:
Q1. Can you buy discord nitro with a gift card
No, unfortunately, it is not possible to buy discord nitro with a gift card.
Q2. What happens when someone gifts you nitro on discord?
When someone gifts you Nitro on Discord, you will receive a notification prompting you to accept or reject the gift.
Q3. Do Nitro gifts last forever?
No Discord Nitro is a paid subscription, and based on the package you got; you will have either a month or a year before it expires.
You May Also Like:
Discord Vs WhatsApp: In-Depth Expert Review
Teamspeak Vs Discord: A Complete Comparison