Discord Vs WhatsApp: In-Depth Expert Review
WhatsApp and Discord are two popular messaging apps with a broad consumer base globally. Check out the below Discord Vs WhatsApp comparison to know more about their similarities and differences and choose the best app that better suits your needs.
Communication tools have become an essential part of our lives in today's digital era. Every day, billions of people across the globe use different kinds of communication apps to stay connected and share files without any hustle.
WhatsApp is currently the world's most popular communication app with more than 2 billion active monthly users worldwide. Several other apps like Discord have also gained popularity in recent years. But when you compare WhatsApp and Discord, which one is better?
Want to know which app better suits your needs? Read the detailed Discord Vs WhatsApp comparison and make a wise choice. Let's start!
What is Discord?
Discord is a chat app that allows users to connect with those who have the same interest in one place. It is more than a simple communication app, it is a place where users can discuss a range of topics and spend time with people of similar interests.
Discord is a community app that focuses on video gamers. It can help gamers find those who play the same game, talk during playing, and play together.
It provides many features. You can make free voice and video calls, share files, and chat in private chats or community groups called servers.
Although Discord is made for communities of any size, small groups who are very active on social media mostly like this app.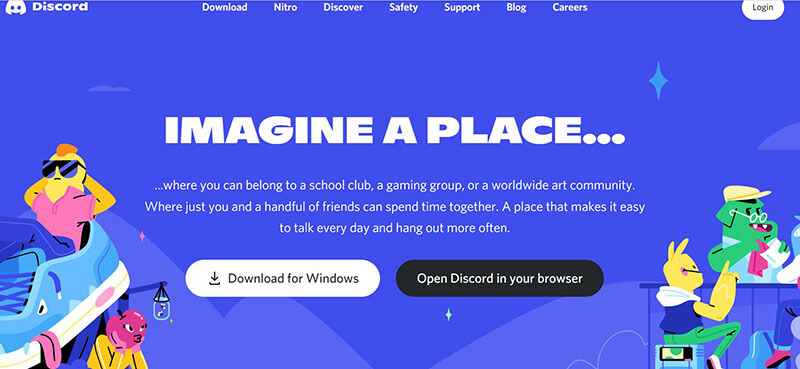 What is WhatsApp?
WhatsApp is also a free instant messaging service with more than 2 billion active users per month.
This centralized and cross-platform communication app is used for texting, audio and video calling, and group discussions. Besides, you can also share your real-time location or track your friends' live location over messages.
Recently, WhatsApp introduced WhatsApp Business for large businesses and SMEs. This app enables companies to create a catalog of their products and services, provide customer support, and quickly respond to client's messages through automation.
The best thing about WhatsApp is that users' conversations are end-to-end encrypted to ensure data privacy.
WhatsApp Vs Discord: Similarities
See below the similarities between WhatsApp and Discord
Two-way Video Call: Both WhatsApp and Discord offer one-on-one conversations in video calls.
Group Video/Voice Calls: Users can make group video/audio voice calls on both WhatsApp and Discord.
Audio Messages: Voice-sharing feature allows both Discord and WhatsApp users to send pre-recorded audio messages confidentially.
Community Groups: You can create groups on WhatsApp and servers on Discord for group chats
Deletion: Messages in both WhatsApp and Discord can be deleted instantly or after some time.
Cross-platform Functionality: Both WhatsApp and Discord are cross-platform apps and can be accessed on PC, Android, and iOS.
Personalization: Users of both these communication apps can personalize their dashboard appearance by choosing their favorite colors, designs, themes, etc.
Privacy Options: Both WhatsApp and Discord allow users to change their privacy settings and decide which content should be made public.
Data Security: Both WhatsApp and Discord take care of their user's privacy and secure their data.
Data Usage: If you compare Discord vs WhatsApp call data usage, you will find both do not have a big difference. You can use both to call as long as you have data or Wifi.
Discord Vs WhatsApp: Differences
Here's how Discord and WhatsApp are different from each other:
Purposes: Discord is a community designed to gather those who share the same interest while WhatsApp is instant one-to-one and group communication tool for personal or business use.
Requirements for Chat with others: If you want to chat with people on WhatsApp, you need their phone number which is signed up for WhatsApp.If you need to add someone in Discord to chat, you only need to search the user's Discord Tag and add it as your friend.
Video Call: Although both apps allow their users to make video calls, the quality of discord Vs WhatsApp call is different. WhatsApp offers HD video calling.
Group Limit: You can add as many people as you want on Discord servers while WhatsApp limits each group's members to 256 only.
Screen Sharing: Discord users can share their screen with others while WhatsApp lacks this feature.
Read Messages or Not: In WhatsApp, you can see whether your messages are read or not. But you cannot do this in Slack.
Location Sharing: WhatsApp allows users to share their live location anytime, anywhere. However, Discord lacks a location-sharing option.
End-to-end Encryption: When it comes to Discord security Vs WhatsApp security, WhatsApp is the winner because its conversations are end-to-end encrypted while Discord does not offer this feature.
Supported File Formats: Discord allows its users to send images, audio, videos, and documents. On the other hand, WhatsApp supports various formats including audio, video, images, documents, location, and contact info.
Integration: Unlike WhatsApp which does not offer any integrations, Discord can be integrated with YouTube, Zapier, Twitch, and Webhooks
Exclusive Features: Discord offers several exclusive features like social sharing, event calendars, blogs, employee directories, and app integration. However, WhatsApp lacks these features.
Activity History: You can check when a user was last active on WhatsApp while Discord does not offer this option.
What Do Customers Like About Discord?
Some of the pros of Discord include:
It is very fast and responsive on all devices.
An ideal messaging app to handle large communities.
Supports several apps making it easier for businesses to use at the workplace.
A better platform to create groups of people having similar interests.
It can be used from any device or phone without any SIM card, unlike WhatsApp.
What Do Customers Dislike About Discord?
Some of the cons of Discord include:
Limited data privacy as it lacks end-to-end encryption.
Not safe for kids, particularly the servers are rated 18+.
The free version offers limited features.
Does not show messages seen or last active notifications.
Lacks temporary message or image options.
What Do Customers Like About WhatsApp?
Some of the pros of WhatsApp include:
Well-maintained and easy to use.
Fully intuitive, customizable, and attractive interface.
End-to-encryption offers data privacy and security.
Free and superfast messaging app with impeccable customer support.
Account setup is very easy and requires a phone number only.
What Do Customers Dislike About WhatsApp?
Some of the cons of WhatsApp include:
Difficult to handle large communications as you can add only 256 members to a group.
Doesn't work with emails as the app is limited to a phone number only.
Users cannot browse and contact their friends or family members.
Lacks app integration that limits its usage in professional environments.
Ideal for one-to-one communication only, can't work for engagement with large groups.
Final Words
The above Discord Vs WhatsApp comparison offered deep insights into the similarities and differences between these two popular messaging apps. However, your choice depends on your communication needs.
Choose WhatsApp if you want one-to-one communication with your friends and sharing basic media. On the other hand, Discord is best to build large communities, engage in debates, and interact with professionals and people with shared interests.
You May Also Like
Slack Vs WhatsApp: What Suits You Better?
Google Chat Vs Slack: Which One is the Ideal Tool for You?