How to Add Teams to Outlook? (Easy Guide)
Looking for the simplest way to boost your productivity by integrating Teams with Outlook? Check out this beginner's guide to learn how to add teams to Outlook using a step-by-step tutorial.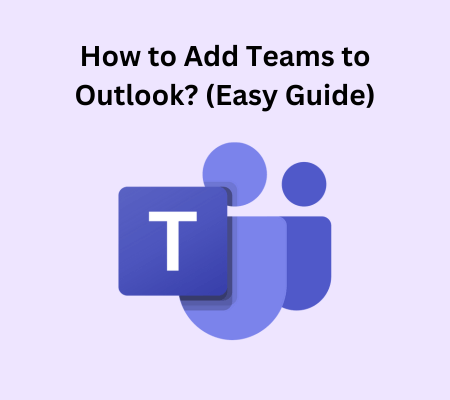 With remote work shaping modern industries, flexible tools have become essential for effective communication and seamless collaboration. Microsoft Teams is an all-in-one chatting and video conferencing platform to share data and attend meetings online.
You can add Teams to Outlook using an add-in to unlock more features without any complicated installations. In this post, we will guide you extensively on how to add teams to Outlook and create meetings conveniently. Let us jump in and see how it works.
How to Add Teams Meeting in Outlook?
Typically, Outlook comes with Microsoft plans, while Teams offers more business-oriented packages. To experience unlimited access and a rich combination of features, you can easily integrate Teams with Outlook.
The best thing about integrating Outlook with Teams is that the entire process is straightforward and simple. You only need to have both tools installed on your device to enable the feature.
You can download Teams from Microsoft's official website if you don't have it on your device already. Also, you can follow the installation and setup guide to go through the process easily and quickly.
After you are done with the download, you will get the Microsoft Teams add-in automatically added to your Outlook, letting you access Teams directly through the ribbon. But this isn't the complete answer for how to add Teams Meeting in Outlook as sometimes, it may not be added successfully. So, follow the below steps to learn how to enable teams add-in in Outlook:
Open the Outlook app on your device and navigate to the File menu on the top left position of the bar.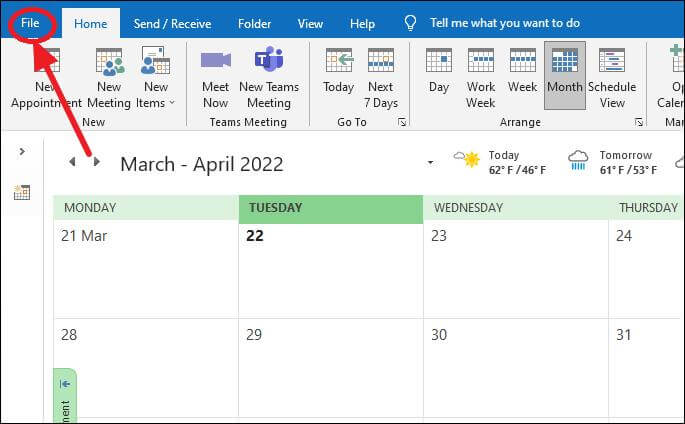 Click on Options in the bottom left corner of the window.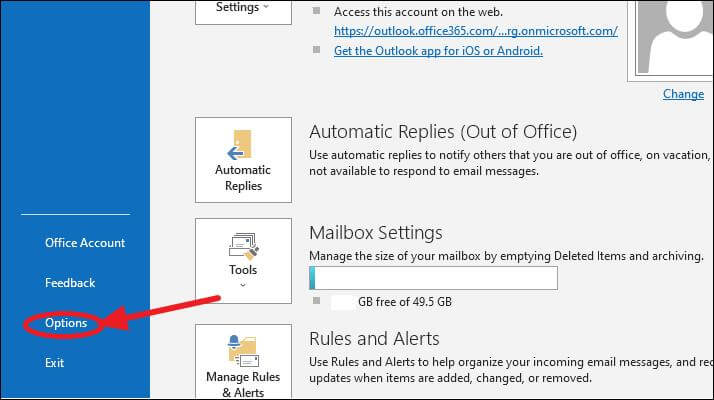 From the Outlook Options list, select Add-ins from the bottom left corner.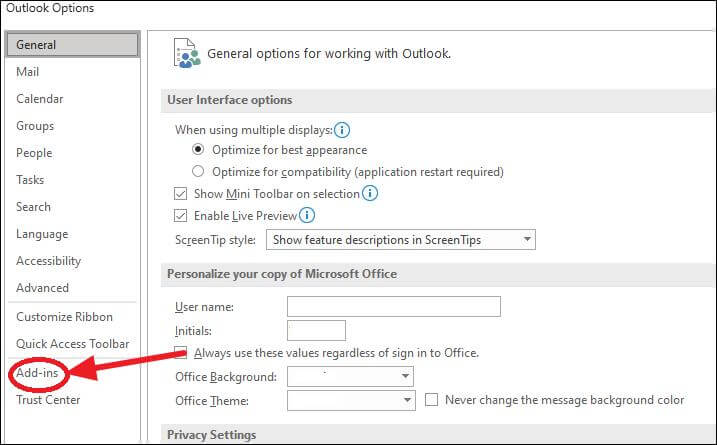 From the drop-down list in the Add-ins dialog, select COM add-ins in the "Manage" field.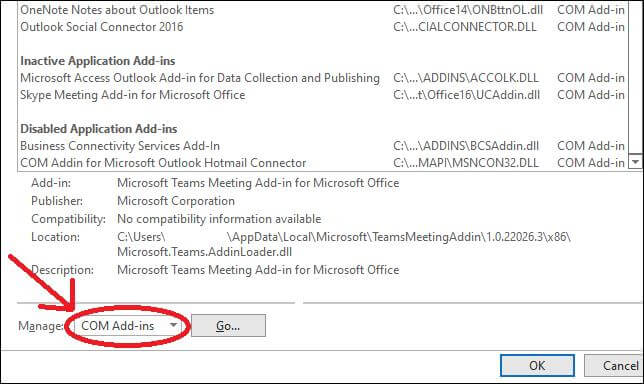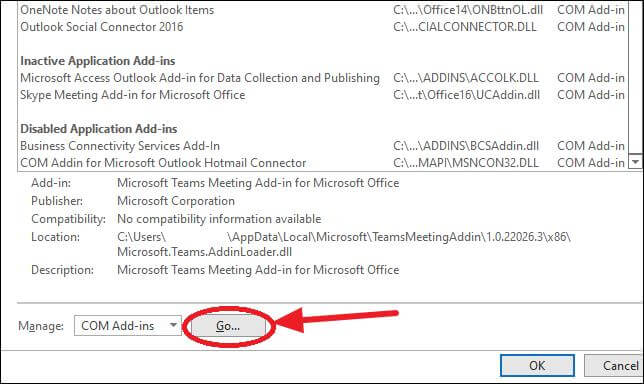 Now enable the Microsoft Teams Add-in checkbox from the list of available Add-ins and press OK.
Finally, restart your Outlook app.
After following these steps, you will get a Microsoft Teams add-in to your Outlook. To verify, open your Outlook calendar and check for the Microsoft Teams section in the Ribbon.

How to Create a Teams Meeting in Outlook?
Microsoft Teams add-in is perfect for scheduling meetings from the Outlook app. You can even send invites to attendees from Outlook automatically. However, you must have both apps installed on your device to synchronize them and use this feature.
Before you proceed, make sure your Teams add-in is available in your Outlook app. If you don't find it, try to enable it first by following the steps discussed in the section above on how to add Microsoft Teams to Outlook.
Note that to create a Teams meeting in Outlook, you must follow different methods depending on your device or medium. For instance, the meeting creation method on the Outlook app for desktops differs from iOS or Android devices.
We will now explain the different strategies for each medium in this section. Let us start off by discussing the technique for the Outlook web interface.
Outlook Web Interface
To schedule the Teams meeting via the web interface, you must have a Microsoft account. The rest of the process is pretty simple and quick.
Here's how you can create Teams meeting through the web:
Visit the official website of Outlook to access the services and log into your Microsoft account with your credentials.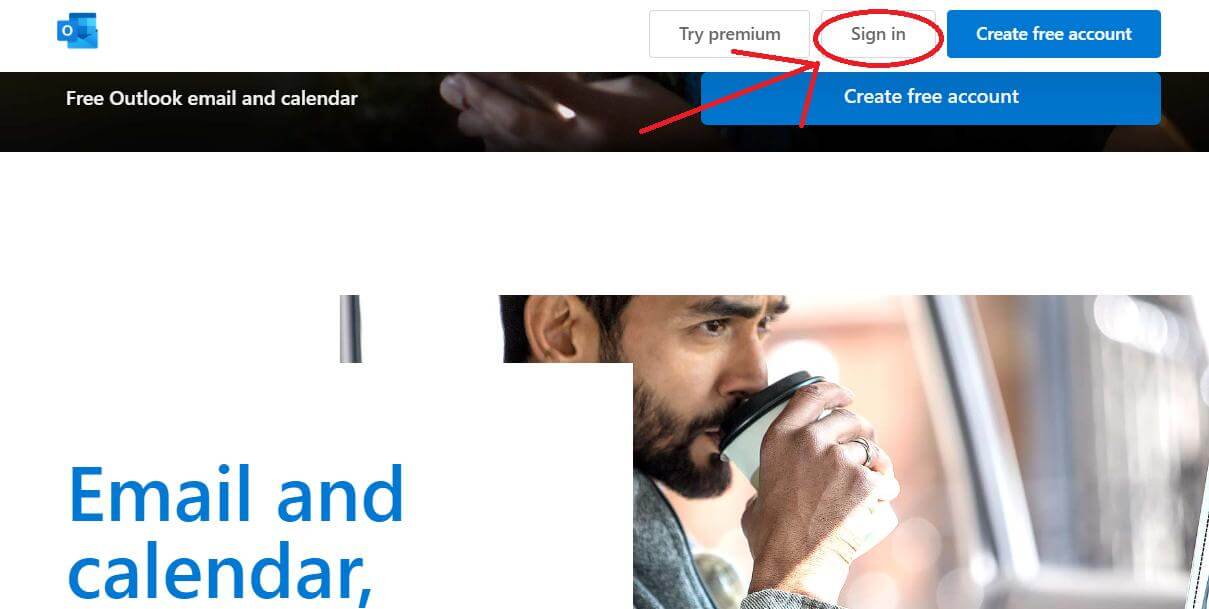 After successfully signing into your Outlook account, switch to the Calendar view from the toolbar options on the left.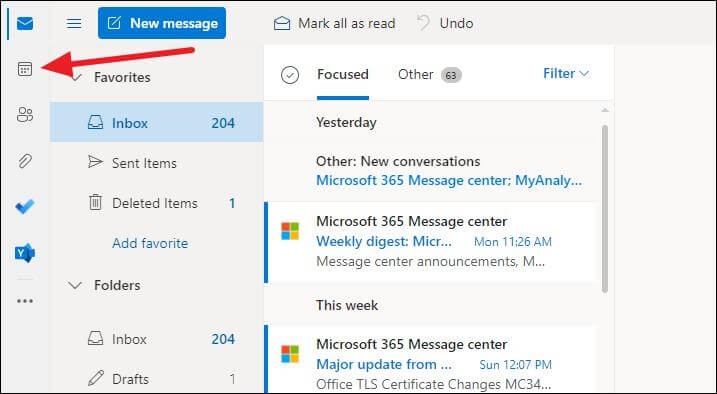 Click on New Event on top of the Calendar to create a new meeting.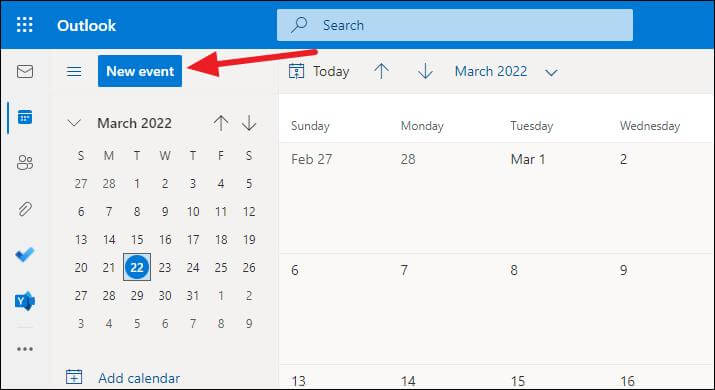 In the New Event section, switch on the toggle for Teams Meeting to enable automatic scheduling of meetings in Microsoft Teams via Outlook.
That's it! After the meeting invites are sent, the joining details will start appearing on the new event.
Outlook Desktop App
To create meetings in Outlook via desktop apps, follow the below steps:
Launch your Outlook app on your desktop and switch to the Calendar view from the options on the bar at left.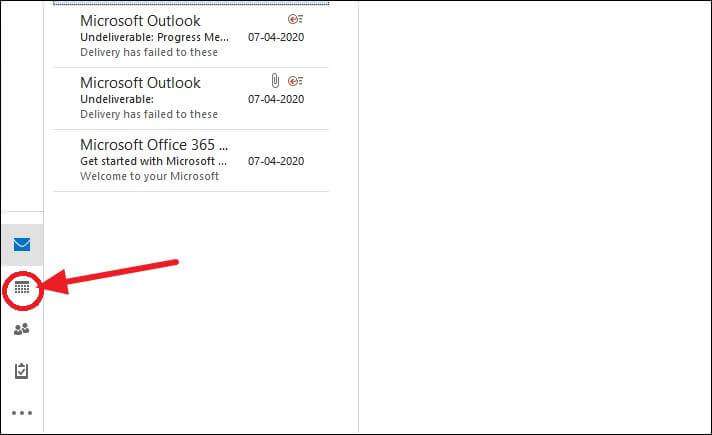 From the Home tab, select New Teams meeting to schedule a new meeting using the Teams add-in on Outlook.
When the meeting creation dialog box appears, you can add information in other fields, such as meeting subjects, names of the attendees, and even start and end times. Additionally, you can add customized messages for attendees along with the invite. However, the joining links and details are attached to the invite automatically. Finally, press Send to create meeting invites.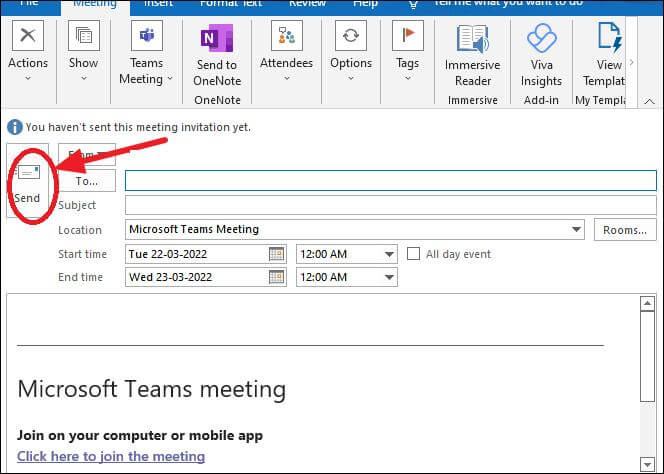 Outlook Mobile App
Teams add-in on Outlook mobile apps can be used to create meetings. The process is quite similar to scheduling meetings on the Web, as follows:
Start your Outlook mobile app and switch to the Calendar view at the bottom right corner of the screen.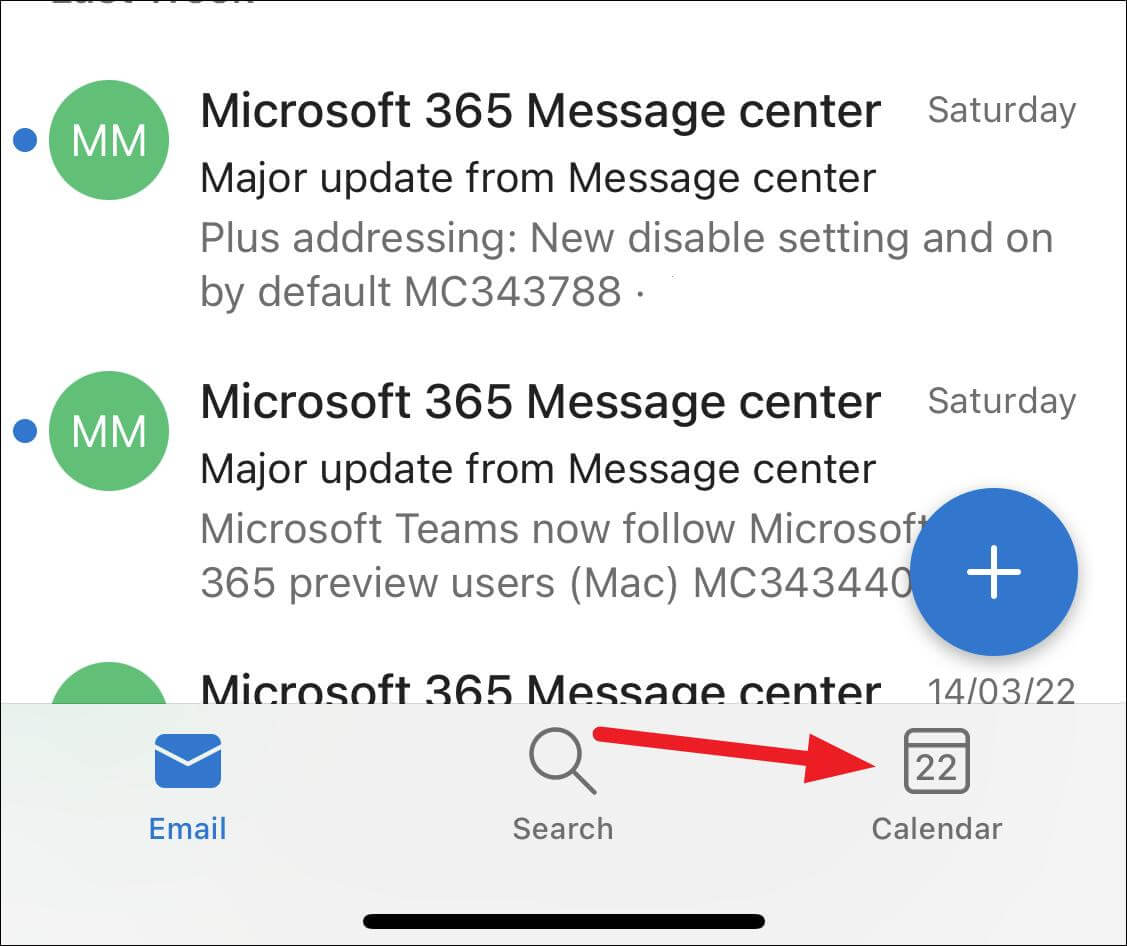 To create a new event, press the "+" icon.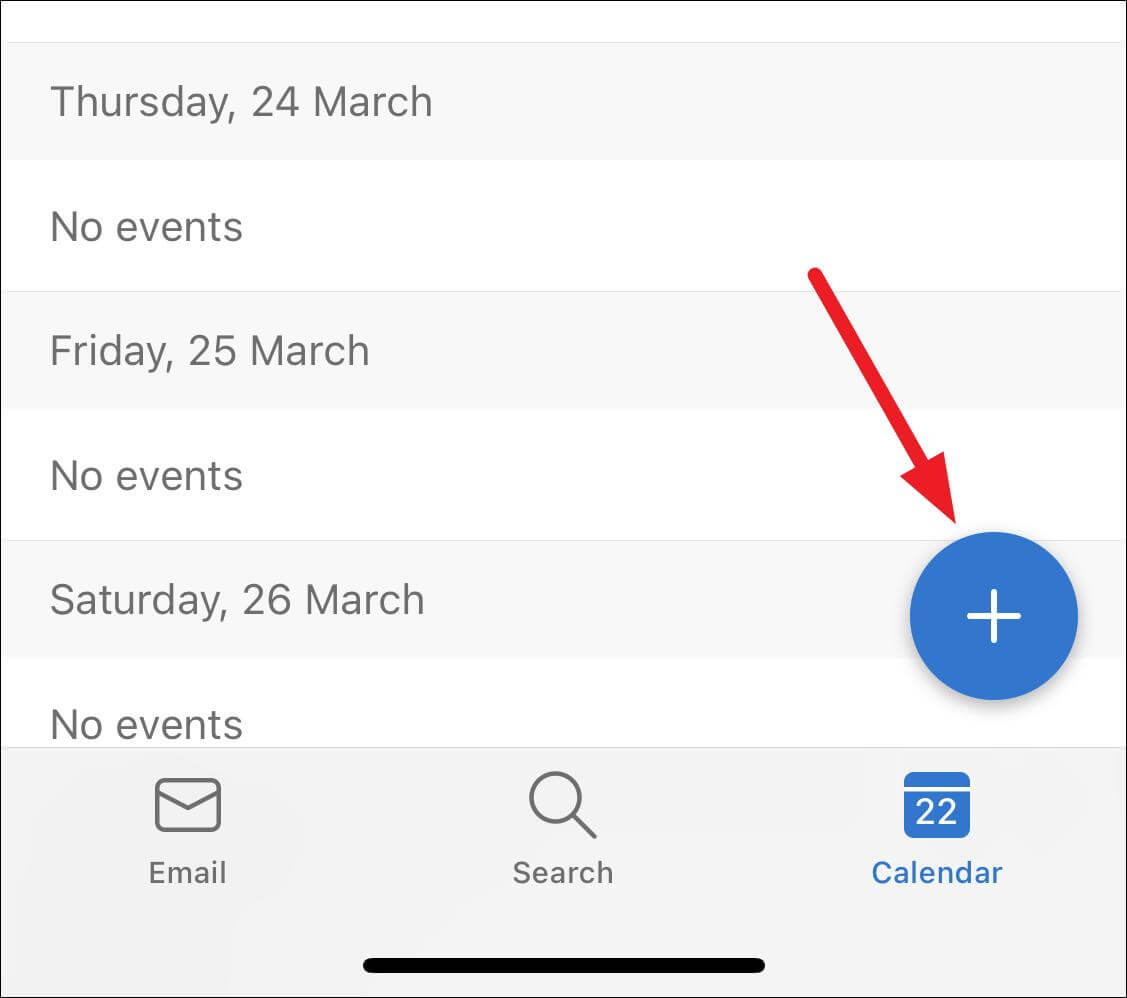 Scroll down on the event screen that appears and navigate to turn on the toggle for Teams Meeting.
After you are done sending the invites, you will get the details for the Team meeting in the calendar events.
FAQS About Teams Add-in in Outlook
This article explains how to add Microsoft Teams to Outlook in-depth. However, users may experience issues while configuring Teams to Outlook on their devices. Therefore, we have listed some frequently asked questions in this section for further guidance and troubleshooting issues related to how to add Teams to Outlook.
Q1. Why Is Teams Presence Not Showing in Outlook?
If Teams presence is not showing in Outlook, verify if your Teams app is running on your device. For Outlook's presence feature to work, you must have Microsoft Teams installed, configured, and running properly. If you are unable to see the presence of a contact, make sure its Teams sign-in and email address are the same. If both don't match, fix the addresses, restart the Teams app, and sign in again.
Q2. How Do I Set My Presence Status in Outlook Online?
The presence status in Outlook indicates your availability to the contacts and vice versa. You can set it as Available, Busy, Away, or Offline. To set your presence status as Online, follow the given steps:
Open the Outlook app on your desktop.
Select File from the menu bar.
Press Options from the taskbar on the left of the window.
Select People and then the Presence tab.
Select the Available status from the drop-down list.
Hit OK.
Q3. How to Fix Teams Meeting Add-in Outlook Missing?
If your Teams Meeting add-in is missing in Outlook, it may have been disabled and can be resolved easily, as follows:
Open Outlook and select File from the menu bar.
Go to Options and then Add-ins.
Select Disabled Items from the Manage field drop-down list and press Go.
If you find Teams mentioned under the Disabled items, select it and press Enable.
Restart your Outlook to see if it works.
In The End
Microsoft Teams integration with Outlook guarantees greater accessibility and productivity. While Teams lets you manage your tasks and collaborate seamlessly, Outlook offers the ever-essential email, calendar, and other support. In this guide, we have thoroughly discussed how to add Teams to Outlook, including the steps on how to enable Teams add-in in Outlook. So, follow the steps discussed in this guide and start scheduling meetings via Outlook.
You May Also Like
How to Remove Teams Meeting from Outlook Invite?
How to Encrypt Email in Outlook?