How to Change Background on Teams?
Here, we will show you how to change background on Teams with and without being in a call. You can try these ways and change your background.
If you are using Microsoft Teams regularly, it is important to know its basic tricks, such as changing the background. We all know how it feels to have a bad background during a meeting. That is why if you are not familiar with how to change  Background on Teams when you are on a call or not on the call, now it's time to learn it. In this article, we will teach you how to change the background in Teams so you can adjust it according to your requirements.
How to Change Teams Background When Not on A Call?
If you think you are not comfortable with your Team's background, then you can change it quickly before joining the call. Yes, that is correct. On the joining screen, you can check what your background looks like. If you are not satisfied with it, here are the simple steps which you can try to change Teams background when not in a meeting or not on a call.
Computer:
Launch your Teams app, join a meeting from the calendar, or start a new meeting. On the next screen, you will see many options, such as audio, video settings, and more. From there, you can adjust your video and audio settings.
Once you have adjusted your video and audio settings, click the Background Filter option. You can find it between the video and audio options.
On the right side, you will see Background Settings, from where you can select different backgrounds.
You can also add your own background by clicking the "Add New" button. This will allow you to select the image from your PC. Once you have uploaded the image, it will be added to the available backgrounds.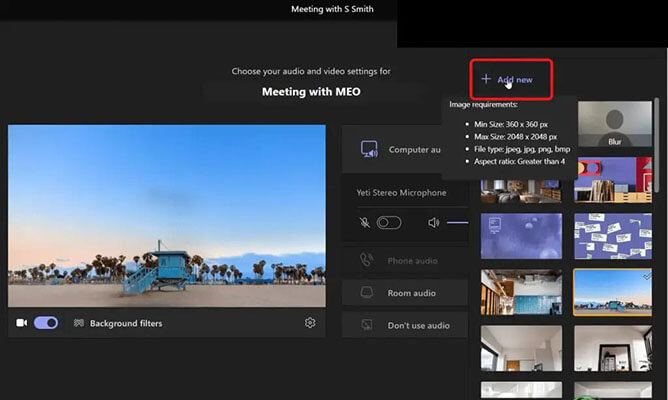 Once you have selected the appropriate background for your call, it will soon appear on your screen.
If you don't like the background, turn off the background filters option, and it will remove the background from the screen. Once done, click the "Join Now" option, and you are ready to go.
Pro Tip: If you are not sure which background is good, you can always go for a blur background. It is not distracting and helps in hiding things behind you. Many people prefer adding blur backgrounds because it is easy to add.
MOBILE:
If you are using Microsoft Teams on mobile, then here are 5 simple steps that you can follow to change background before joining the meeting.
Launch your app and join a meeting from the calendar or start a new meeting.
Click the ¨Change Background¨ or "Background effects" button on Android and iPhone.
You will see different images on your screen. So, choose your favorite background and click the Done option.
If you don't want to add any background, then choose the "No background" option. This will turn off your background.
How to Change Background in Teams When on A Call?
If you think your background is distracting other members, then you should immediately change it before they get annoyed. Microsoft Teams allows you to change the background during the call. Here are some quick steps which will help you change your background in Teams.
Launch Microsoft Teams on your PC and click the "Start Meeting" option or join a meeting.
Turn on your both audio and video options and select the "Join Now" button.
Now, to change the background, click the three dots option.
After that, choose the "Show background effects" option. It will redirect you to the "Background Settings" page.
From Background settings, you can select your favorite background. Besides, you can add new images, choose the blur option, and more. It is recommended to go for blurring the background option as it is considered good during the meetings.
You can also cross-check your background before joining the meeting by clicking the "Preview" option.
If you are happy with your background, click the "Apply and Turn on Video" button. That's it!
Mobile:
iPhone and Android users can also change their background when on a call. Want to know how? Check the instructions below.
As you are on the meeting screen, you can click on three dots (More options).  
Click the "Background Effects" button.
Choose your favorite background and click the "Done" option.
Soon your background will change.
.
Pro Tip: If you don't like backgrounds by Microsoft, don't worry, you can add custom images as background for your Teams. But make sure to choose images that are of high-quality and have JPG, PNG, or BMP formats.
How to Change Background in Microsoft Teams If There Is No Option?
Some users report that they cannot change their background in Teams because there is no background effects option available. If you are also facing this issue, here are the possible reasons why it is happening to you.
You didn't update your Teams application.
The background change option is only available on desktop or mobile applications.
This option is not supported on Windows 8.1 or below.
Linux users can't change their background in Microsoft Teams
If you have an institution account, then this option is disabled by your admin.
You are using Teams via Optimized Virtual Desktop Infrastructure (VDI)
Here are the top reasons why you can't change your background on Teams. Let's see how you can fix this issue.
Change Backgrounds on Windows, Mac, and Mobile Only
 Linux and web users can't change the backgrounds, so make sure to change it via Windows, Mac, and Mobile only. Also, don't use Teams on unsupported devices; you can check the hardware requirements of downloading Teams.
2. Ask your Admin
If you are using an institution account or have an organization, there is a possibility that this option is blocked by your admin. If you are the admin, here is how you can turn this option on.
Visit Teams admin center and choose the "Meeting" option.
Click Customization Policies and go to Custom Meeting Backgrounds.
If it is off, then turn it on and click the "Save" button.
3. Try to Add Virtual Background Manually
You can also add your backgrounds manually using File Explorer. The process of doing it is simple, just open File Explorer and type %APPDATA%\Microsoft\Teams\Backgrounds in your address bar. You will see the Uploads option. From there, upload your desired image and use it as a custom background.
Conclusion
How to change Background on Teams? Many people ask this question and they find it complicated to change the background in Teams, especially those who can't find the background effects option. With this guide, you can easily change your background when you are on or not on the call. Also, you can add virtual backgrounds manually if you don't have the background option.
You May Also Like
How to Change Name on Microsoft Teams? All Cases Included
How to Use Teams Updates App? The Complete Guide