How to Extend Zoom Meeting Time? (Computer and Mobile Ways)
Since you are restricted by Zoom's 40-minute time limit for a meeting on its free plan, here is a detailed article on how to extend zoom meeting time with and without ever upgrading to a paid plan.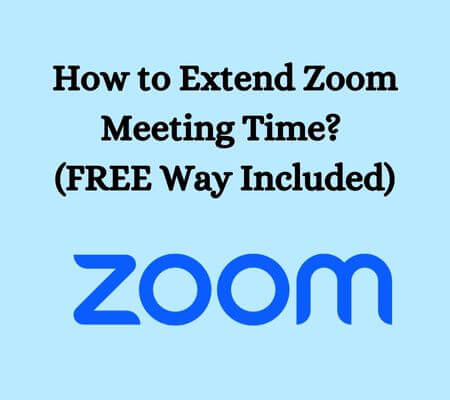 Zoom is a popular audio and video conferencing app that allows teams and clients to connect with each other globally. However, in its free plan, Zoom restricts meetings to a 40-minute time limit which can be an inconvenience for folks who need extra time. You can always upgrade to a paid plan where you get unlimited time, but in this article, we will learn how to extend zoom meeting time for free on both computer and mobile versions and how to extend zoom meeting time via upgrading if you want. So, without further ado, let's get started.
How to Extend Zoom Meeting Time Limit for Free?
If you want your meetings to last longer than 40 minutes, Zoom will want you to upgrade to their paid plan. However, there is a quick trick that you can use to circumvent this restriction. Here is a detailed step-by-step you can follow if you want to extend your Zoom meeting time.
How to Extend Zoom Meeting Time Limit on Computer
In order to extend a Zoom meeting to go past 40 minutes, a user either has to opt for a paid plan or restart a meeting again before the 40 minutes is over. If you are on a PC and using Zoom through a desktop, follow the steps below.

Step 1: Open the Zoom app and sign into your account.

Step 2: From the home screen, click on the schedule icon to set up a new meeting.

Note: This technique involves scheduling a meeting, so do not select the instant meeting option. Follow the image attached for reference.

Step 3: Next, set the time and you want to set up the meeting. Make sure to scroll down to the Calendar heading section and the option "Other Calendars" is checked before clicking save.
Step 4: Information to join the meeting like the meeting ID and joining link will appear. You can send this over to everyone involved in the meeting.

Step 5: Once the meeting starts and you come close to the 40-minute limit, a countdown time will appear reminding you that the meeting will soon stop. As a host, your next step is to leave the meeting.

Note: You must select the leave meeting option and not the End for all, as it will immediately terminate the meeting for all users.
Step 6: You will be prompted to choose a new host, select anyone from the team, and before anyone has left the original meeting, start a new one with the same joining information so that everyone can join before the 40 min timer is over.
That's it you can now extend your meeting time as long as you want as there is no fixed number of times you can use this trick. But of course, this is not a perfect solution and you will be forced to take a break after every 40 minutes. But perhaps a small break after 40 minutes is not that bad after all.
How to Extend Zoom Meeting Time on Mobile
If you are on a mobile, you can use a similar trick of scheduling multiple meetings. For example, if you need to video conference for two hours, you can divide it into 4 segments of 30 mins each. A detailed guide on how to set it up is illustrated below.

Step 1: log in to your zoom account on your mobile device.
Step 2: Now, tap on the schedule button on the top to create a new meeting.
Note: DO NOT select the orange "New Meeting" icon as it will start a meeting instantly, that is not what we want.
Step 3: Once the first meeting is scheduled, create three more meetings at 30-minute intervals. The idea being once the first meeting ends, all participants will automatically switch to the next meeting without having to log back in.
Step 4: Continue adding as many meetings as you need as there is no restriction on the number of meetings you can set.
Step 5: Once you have created the meetings you can now send invites to the first meeting to the participants, who can then use the credentials to join. Once they join the meeting they can easily switch to the next scheduled meeting without much interruption.  
How to Extend Zoom Meeting Time Via Upgrading?
The workaround discussed above may not always be the best solution as it still involves some interruption. However, the 40-minute time limit is only for the free plan and you can always upgrade to any of Zoom's paid plans to circumvent the restriction.

Depending on your location a Zoom subscription can cost $149/year or $14.00 for a monthly subscription. However, Zoom is currently running an exclusive offer and offering a 30% discount, which brings the price down to just $104/per year. Once you do upgrade, you can enjoy uninterrupted meetings for 30 hours which is more than enough for any personal use.
Upgrading to a paid subscription on Zoom is quite straightforward. Here is a detailed step-by-step guide on how to upgrade to a paid plan.

Step 1: Open Zoom and sign-in into your account.
Step 2: If you are using the desktop app, click on your profile icon at the top right corner and then tap on the "Buy license" button. If you are using the web version, you can click Account Management, then Billing.
Step 3: Now you can select the plan you prefer (monthly or yearly) and put in your payment details. Next, click Save & Continue to complete the purchase.
Final Words
With over 300 million active users, Zoom is by far one of the most popular audio/video conferencing services on the market. It offers some great features and makes meetings fun and interesting. However, Zoom is not completely free, and restricts unlimited meetings under a paid plan. But using the tips discussed above, you too can extend Zoom meeting time for free.
Sure, the workarounds aren't flawless and can be a bit of an inconvenience at times, but if you are looking at how to extend zoom meeting time for free, this is by far the best solution you can try.
FAQS
Q1. How to extend zoom meeting time during a meeting?
If you are on the free plan, after 40 minutes a Zoom call will automatically end. To extend zoom meeting time in progress, you must either upgrade to a paid plan or leave the meeting early and rejoin to reset the timer.
Q2. How much is Zoom after 40 minutes?
After a free 40-minute of zoom call, a user must upgrade to a paid plan or restart the meeting. Upgrading Zoom to a paid plan costs 149/year or 14.99/month.

Q3. Is Zoom free forever?
Zoom offers a free plan that, for now, does not require users to pay any fees. However, some of Zoom's most interesting features are hidden behind a paid wall. So, you must pay a small fee to enjoy all of Zoom's features.

Q4. Can Zoom meeting continue after host leaves?
Yes, a Zoom meeting can continue even after a host leaves. If the host chose the option "leave the meeting" a new pop-up will appear asking who the host wants to be the new host.