How to Use MS Teams Whiteboard? The Ultimate Guide
Started working from home? Teams whiteboard can help you share, discuss and illustrate ideas effectively. Here's the ultimate guide on how to use Microsoft Teams Whiteboard.
As the world had the pandemic, businesses shifted towards online functionality. And since then, Microsoft teams has become a hot app among remote workers. One of the best features of it is the ability to instantly present anything to your colleagues over a video conference with the help of the Whiteboard feature.
The whiteboard feature of Microsoft Teams makes it quite easy and practical for the hosts or joiners to share ideas over remote meetings. The virtual whiteboard shared over the video call allows you to draw, sketch, and add texts, shapes, and reactions to illustrate the ideas.
If you've just started exploring Microsoft teams and its features, here's the ultimate guide on how to use MS Teams Whiteboard.
How to Use Whiteboard in Teams?
Using the whiteboard in Teams is as simple as using a note-taking application. There isn't any rocket science to get pro at it. All you need to do is to call the person with whom you want to share the screen and follow the steps below:
Provided that you're on the call with your co-worker, go to the Share button on the right side of the screen near to Leave button and click on it.

A pop-up window will appear. Scroll down and click on Microsoft Whiteboard.
A new screen will load, where you can see the whiteboard. On the left side of the screen, you can see the three options, the Select button, the Inking button, and Create button, respectively. Using these buttons, you can add stuff to your whiteboard.
Select button: You can select any object on the whiteboard to resize them, rotate it and add colors to them.
Inking button: With the Inking button, you can choose a bunch of pens, markers, and eraser options.
Create: With the create option, you can add plenty of stuff to your team whiteboard, such as notes, templates, documents, reactions, and images.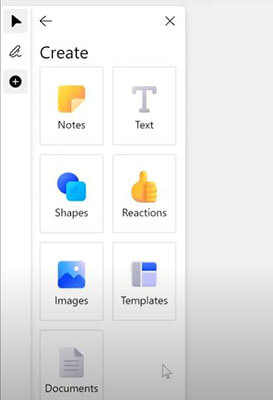 Moreover, if you click on the gear icon on the top right of the screen, it'll bring a bunch of other settings options. In the settings menu, you can change the background color of the whiteboard by clicking on the format background option.
How to Fix Microsoft Teams Whiteboard Missing?
As explained and demonstrated above, enabling the whiteboard on teams is quite easy. However, if the Teams whiteboard is missing from your Teams profile, you can try these steps to resolve it:
To resolve the missing whiteboard issue, you can first turn it off, save settings, and enable it again.
If the whiteboard is still missing, then try creating a new policy for the user and turn on the Whiteboard on it.
How to Fix Microsoft Teams Whiteboard Not Loading?
Now that you know how to get the whiteboard working, here's a quick guide on what to do if it isn't loading. This problem occurs after installing the latest updates to the Team whiteboard. However, you don't need to find the previous version to replace it with a newer one; there are some simpler ways you can try to fix it.
Method 1: Sign Out Then Sign In to MS Teams
The first method to resolve the problem of Teams whiteboard not loading problem is by signing out and then signing in again. Follow the steps below to re-login to your Microsoft Teams:
Go to your Microsoft Teams, click on your Profile picture, and click on Sign out.
Now, put your login details for Microsoft Teams.
This should resolve the Microsoft Teams Whiteboard not loading problem. Otherwise, refer to method 2 of this section.
Method 2: Turned on Whiteboard from Your Account Settings
One reason the Microsoft Teams whiteboard is not loading is that it's not turned on from your account settings. Make sure it's turned on in the settings. Here are the steps to turn the Teams Whiteboard on:
If you don't have an administrator account, ask the IT person in your company to follow these steps to turn on the teams whiteboard for your teams account.
Go to Microsoft 365 Admin Center >> select home page >> then navigate to Settings >> Services & add-ins >> Whiteboard.
Turn on the toggle for Whiteboard in the whiteboard section to enable it on your account. If it's already turned on, re-enable it.
Lastly, click on the Save button.
Final Words
Microsoft Teams Whiteboard is an amazing feature that allows team members to collaborate seamlessly with each other over video conference. It allows members to easily share and work on documents, images, slideshows, and more. In this article, we have discussed how to use Microsoft Teams Whiteboard. Moreover, in case you have the problem of Microsoft Teams not working and not loading issues, we also provide effective tips to you here.
You May Also Like
How to Send a Teams Meeting Invite?