How Does Slack Schedule Message? The Ultimate Beginners' Guide
Communicating with clients in different zones? Slack schedule message feature can help you automate your communication instantly. Here's the ultimate beginner's guide on how to schedule a slack message.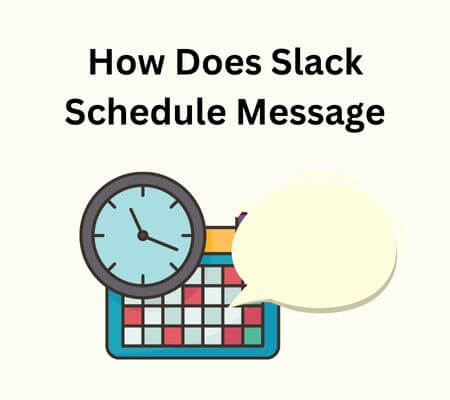 When working with people living in different time zones, breaking the time barriers can be stressful for communication purposes. That's where the schedule message feature can be pretty helpful. In 2021, slack introduced the schedule message feature, which made it possible to schedule messages. If you're new to slack and unaware of scheduling slack messages, here's the complete beginner's guide.
How to Schedule Slack Messages?
Scheduling the slack message is quite easy. It can be set up with a few clicks. Following are the steps to schedule slack messages.
Go to the person you want to schedule a message for, open the conversation, and type the message you want to schedule.
Once you've composed your message, click on the downward arrow next to the send button.
When you click on the arrow, it'll show you the time and date, or you can also set up the custom one.
Lastly, click the Schedule Message button when you've selected the message's time and date. Now you schedule slack messages successfully.
How to Edit Scheduled Slack Messages?
If you have set up the schedule message, but later on, you think something needs to be changed, you can always edit it. Whether you schedule the message for the channel or DM, you can edit it by clicking on "See all Scheduled Messages". Here are the steps to edit scheduled slack messages:
Go to the conversation or channel where you have scheduled the slack message.
Click on the "See all scheduled message" above the text field. Or you can also click on Draft & Sent, then select the scheduled tab.
Once you click on it, it'll show you the list of all scheduled slack messages.
Hover over the schedule message you want to edit; it'll show three options. Click on the first one, which is the edit option, as shown in the image below.
When you click on the edit button, it'll directly take you to the conversation window, where you can re-compose your message.
How to Delete Scheduled Slack Messages?
Once you have scheduled the slack message, you can easily delete it whenever needed. Here are the steps below to delete the scheduled slack message:
Go to the Draft & Sent, and click on the Schedule Tab.
Locate the schedule message you wish to delete and hover over it, so the options to take action to appear for the schedule message.
Click on the three-dot option and select "Delete message" to delete the schedule permanently. Or you can also cancel, and it'll go into your drafts by clicking on "Cancel Schedule and save to drafts' '.
How Does Slack Schedule Recurring Message?
Recurring messages is a great feature that is helpful when you have to send messages frequently. Let's assume you need to remind your teammates about some specific task daily or weekly. With slack, you can schedule a recurring message that'll post at the scheduled time and date. Here are two ways you can learn how to schedule recurring messages.
Way 1. Via Slackscheduler
Here are the steps to set up slack to schedule recurring messages:
Go to https://slackscheduler.com/ and hit the Add To Slack button.
It'll ask you for the following permissions. Click on the Allow button to proceed further, and it'll be added to your slack account.
Now navigate to your slack, and open up the conversation or channel where you want to set up the recurring message. Then, type the command /schedule and hit enter.
Once you hit enter, the Message Scheduler will open up. Now enter the message, set a date for the schedule, select Timezone, etc. Lastly, click on the Schedule button at the bottom to schedule it.
Way 2. Via Reminder Feature
With its plethora of features, slack also offers recurring reminders, which can also help you create recurring messages. With slack recurring reminders, you can set up reminders to remind you of that task or remind someone of your teams for specific tasks. For instance, you can set up a reminder to borrow a laptop from a colleague at work. Or you can also set up a reminder to ask your colleagues for a meeting every Monday.
Here are some examples of slack recurring reminders to help you understand it better:
When it comes to setting up recurring reminders, it's as easy as setting up and scheduling a message on slack via Slackscheduler. Here's how you can set recurring reminders on slack:
One of the easiest ways to set the recurring reminder on slack is by going to your chat box.
Type the command /remind followed by the statement of the task that you want to be reminded of. For instance, you can type it like "/remind me of a project meeting on every monday".
Once you have typed the reminder statement, hit the enter button, and it'll set the reminder for it.
You can also check the reminder list by typing the command /remind list.
Final Words
Slack is a great communication platform with many effective and productive features for day-to-day business communications. Slack schedule message feature is also one of them, allowing you to automate slack communications. In this guide, we discussed how to schedule a message in slack as well as slack schedule recurring messages. If you have any questions or confusion, feel free to ask us in the comments below.
You May Also Like
How to Keep Slack Active? All Methods Are Here
How to Get Slack Channel ID/User ID/Team ID?