30 Free Teams Christmas Backgrounds You Can Use
Are you looking for amazing backgrounds to customize your Microsoft Teams dashboard? Check out these amazing Teams Christmas backgrounds and celebrate this festive season with joy and happiness.
Christmas is a festival of charm, celebrations, and memories. Decorating homes and offices with balloons and lights and enjoying with family and friends in cold December is an unforgettable experience.
Besides, Christmas decorations are not confined to homes only. People also customize their communication platforms, workspaces and social media profiles. Hence, Microsoft Teams offers several customization options to let users use Christmas-related backgrounds to personalize their communication apps accordingly.
Hence, we bring you 30 beautiful and free Microsoft Teams Christmas backgrounds that you can use to fully celebrate this amazing festival.
So, let's explore!
10 Free Funny Christmas Teams Backgrounds
Given below are 10 funny Christmas Teams backgrounds with amazing characters and gorgeous illustrations.
1. Santa's little helper, a fluffy, white puppy, with big, bright eyes that shine with excitement and curiosity. A perfect embodiment of the holiday spirit!
2. Two charming snowmen adorned in festive Christmas attire, which makes them look all the more adorable and enchanting. The top hat on the head and red scarf make this picture look adorable.
3. Show your love for this jolly, plump Santa Claus, with his signature long white beard and a bright red suit trimmed with white fur. His eyes are wide with amazement, and his mouth is slightly open in awe.
4. A stunning Christmas tree, resplendent with twinkling lights, glittering ornaments, and an abundance of brightly colored decorations. A true centerpiece of the holiday decor.
5. If you're a bulldog lover, this picture is for you. A cute little dawn pug with wrinkled skin and a pudgy belly wearing a red and white Santa, looking at you with an expectant expression.
6. Blue-colored Santa Clause Lego, with a white beard, black boots, and red accents on the hat, belt, and gloves. Looking festive and cheerful, with its bright colors and playful design capturing the holiday spirit.
7. An adorable little puppy dressed up in a Santa Claus costume for Christmas. The image is bright and cheerful, with a playful and festive mood, perfect for Teams Christmas Background.
8. The picture shows Kermit the Frog, in a Christmas setting wearing a red and white Santa Claus hat capturing the joy and warmth of the holiday season, making it a great choice for Teams background.
9. An adorable little puppy wearing a red and white Santa Claus hat with a pom-pom on top capturing the innocence and joy of the holiday season.
10. Another classical image displaying a smiling, anthropomorphic Christmas character with eyes, mouth, and arms. The background is a bright and cheerful green color, which perfectly complements the colors of the decoration.
10 Free Disney Christmas Teams Backgrounds
Let's explore how Disney Christmas celebrations can add colors to your Teams background with beautiful pictures:
1. Image of Santa Clause riding a red and blue cart decorated with holiday lights and ornaments. The picture captures the joy and magic of the Christmas season, with Santa Claus bringing cheer and gifts to children.
2. The Plaza Ice Cream Parlor is decorated with strings of colorful Christmas lights and festive garlands embracing the holiday spirit and offering a warm and welcoming space for customers to indulge in some sweet treats during the Christmas season.
3. Disneyland Christmas Fantasy Parade shows the joy and magic of the Christmas season at Disneyland, with Mickey Mouse dressed in his iconic red and white outfit with a Santa Claus hat.
4. A person dressed in a holiday-themed outfit captured mid-dance in front of Christmas trees evoking the joy and merriment of the holiday season.
5. A cute little girl dressed in festive attire embodying the wonder and excitement of the holiday season and creating a sense of holiday cheer and merriment.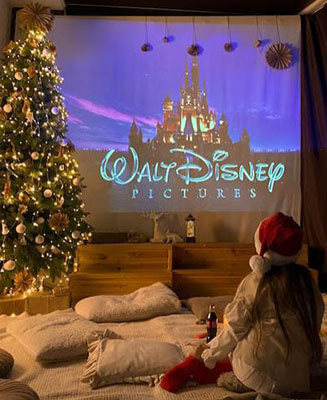 6. A stunning view of Disneyland building adorned with strings of colorful lights, creating dazzling and magical effects capturing the spirit of the Christmas season.
7. A Pinocchio figurine decorated for Christmas at Disneyland. The image conveys a sense of joy and excitement for the Christmas holiday and attracting visitors.
8. A festive Christmas parade led by a Santa Clause dressed in a traditional red and white uniform riding a cart loaded with a lot of gifts, giving a message of peace, love, and unity.
9. The entrance to Disneyland Park in Anaheim marked by a large archway and a beautiful castle in the background decorated with lights for Christmas celebrations.
10. A beautiful Christmas display with a brightly lit Christmas tree decorated with colorful ornaments, ribbons, and lights. The colorful decorations create a warm and cheerful feeling, evoking the spirit of the holiday season.
10 Christmas Vacation Teams Background Images
Enjoy your Christmas vacations by adding these stunning background images to your Microsoft Teams.
1. The holiday season is all about joy and happiness, and the image also depicts a beautiful young woman enjoying the festive spirit of Christmas standing in front of a beautiful background of colorful Christmas lights.
2. The image portrays a winter Christmas season with a small snow-covered tree with a few ornaments. A perfect depiction of calm and peace evoking the beauty and tranquility of a winter landscape during the festive season.
3. A depiction of Santa Claus holding a cup of hot chocolate adding to the warmth and coziness of the image that is suggesting a festive season celebration or winter tradition.
4. A festive holiday red gift bag surrounded by various holiday decorations. The image captures the festive spirit of Christmas and the holiday season and can be used to represent the joy of giving and receiving gifts during the holidays.
5. A perfect depiction of the winter Christmas holidays featuring a snow-covered street in a small town and people walking along the street, bundled up in warm clothing, with some of them carrying shopping bags. Use this image in Teams background to represent the excitement and anticipation of the holiday season
6. A beautiful young girl blowing snow on her hands with her body covered with a fur coat. The image illustrates the happiness the Christmas holiday season brings to people.
7. Christmas holiday celebrations in some cold desert. The sanity, calmness, and winter breeze with a little touch of sunshine and your loving partner at noon. This is what this picture is all about.
8. Can there be a better description of the Christmas holidays than this image portraying a beautiful Christmas tree with a passport in it? Definitely, someone is going to have a wonderful time abroad.
9. Christmas holiday Teams background for female users who love long drives in snowy deserts with their families to enjoy the charm and festivity of the holiday season.
10. Can this be your next destination for the Christmas holidays? If yes, use this picture as your Teams Christmas background and tell your colleagues how memorable your coming festive season is going to be.
Final Words
We have shared 30 stunning Teams Christmas background images to customize your Teams background in the upcoming festive season. The images represent three different categories namely funny, Disney, and holiday.
Choose each image as per your preferences and holiday plans and celebrate Christmas with your friends, family, and colleagues. All these pictures are available to download for free. Just click the link given with each picture.
You May Also Like
How to Change Background on Teams? (With and Without Being in a Call)
30 Best Free Teams Virtual Backgrounds (Done Research For You)