3 Effective Ways to Fix Teams Error Code CAA5004B
In this article, we have discussed how to fix Teams error code caa5004b using three different methods. You can try these solutions one by one and resolve the problem in no time.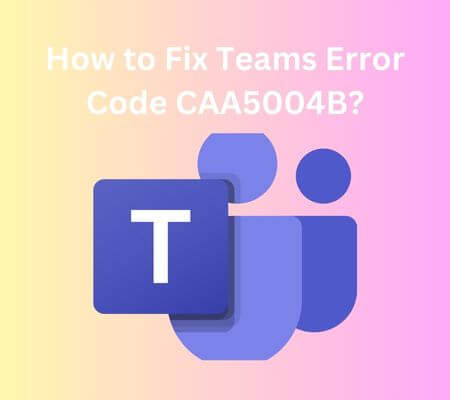 Are you still seeing Teams error code caa5004b on your screen? Don't know what is the main cause of this error? Well, you are not alone. Many users reported the Teams error code caa5004b, and it could be due to many reasons, such as corrupted files, server problems, outdated applications, and more. But the good news is that you can quickly fix this error using three different techniques. Continue reading the article to find out how these methods work.
How to Fix Microsoft Teams Error Code CAA5004B?
As mentioned above, there can be many reasons why you get Teams error code caa5004b on your screen. But most users get this error when there is a problem with their app, credentials, or cache. But it is possible to resolve this issue if you know the right techniques. Below we have discussed three simple and easy methods to fix MS Teams error code caa5004b. By following these ways, you can resolve this issue quickly. Now, let's discuss these ways one by one.
Way 1. Delete MS Teams Cache
If Microsoft Teams is showing error code caa5004b while logging, it means corrupted files create issues for you. Most Windows users get this error because MS Teams store large amounts of cache files and stop people from using the app. On the other hand, cache files are not good because they continuously send errors and stop the background processes of your application. So, the first thing you can try to fix Microsoft Teams error code caa5004b is by deleting all the cache files. Below we have mentioned a step-by-step guide that you can follow to delete MS Teams cache.
To delete the cache, you first have to close your MS Teams application.
Once done, go to Windows search and type RUN to open it. You can also use Windows + R keys.
Now, type the following command %appdata%\Microsoft\teams and hit OK.
A new folder will open from where you can delete the below folders.
1. application cache\cache
2. blob_storage
3. Cache
4. databases
5. GPUcache
6. IndexedDB
7. Local Storage
8. Tmp
Note: Some suggest that you should delete the full Teams folder, but we don't think it is necessary, as deleting the above folders will do your job.
Once you have deleted the above folders, open your application and see if the error is gone or not.
If it didn't fix your issue, check the other two methods mentioned below.
Way 2. Remove All Microsoft Office Related Accounts from Credential Manager
The second method which will help to fix MS Teams error code caa5004b is by removing all the office-related accounts from your Credential Manager. This method is tried by multiple users and has positive results while removing the error. Apart from that, we suggest deleting the account from Credential Managers, so you can easily log in to your MS Teams without any interruptions. Let's see how you can remove your MS Office account.
First, close your MS Teams app. After that, open your Control Panel application.
Once you have opened the application, click the  "View By" option available on the right side of your screen, and from there, select the "Category" button. Now, select the  "User Accounts" option.
Next, choose the Credential Manager option.
Once you are on the Manage your credentials screen, hit the "Windows Credentials" option.
Scroll down a bit, and you will see all your MS Office-related accounts. So, click the arrow and open the account details.
Now, click the "Remove" button, and your account credentials will be removed.
If you see more than MS accounts, delete all the accounts one by one.
After deleting all the accounts, go to your MS Teams application, enter your credentials, and try to log in again. Hopefully, this time you will not see this error.
Way 3. Delete All Accounts in Access Work or School
If you have deleted the cache and removed the credentials, but you still get the Microsoft Teams error code caa5004b, it's time to delete all your accounts in Access work or school because there are chances that these accounts are restricting you from opening MS Teams. Without wasting any time, let's see how you can delete your accounts signed in access work or school.
Open your Settings application and click "Accounts."
Under the sign-in option, click the Access Work or School option.
Delete all the accounts shown on the screen by clicking the "Disconnect" button.
Now, go back to your MS Teams app and log in to the account.
These are the top ways that you can use to solve the MS Teams error code caa5004b on Windows. Hopefully, these ways will fix this issue, and you will be able to sign into your account without any hassle.
Final Words
Finally, you have learned all the possible ways to fix your Microsoft Teams error code caa5004b. With these methods, you will be able to resolve this error. However, if the issue is still there, you can try other solutions, such as updating the app or reinstalling it, or you can update your Windows if nothing works for you.
You May Also Like
How to Fix Teams Error Code 80090016?
How to Fix Arrow Keys Not Working in Teams? SOLVED!
4 Best Ways to Fix Your Organization Has Disabled This Device