Teamspeak Vs Discord: A Detailed Comparison
Teamspeak and Discord are two of the most popular VOIP applications. If you are looking for which one works better for you, then read this Teamspeak Vs Discord comparison.
As the world progresses, much of the work is being shifted from office to online which means you need to communicate with your team members online. For this case, you need to ensure that you have robust communication software on your side to avoid the problems like long time loading and bad sound quality.
If you are looking for effective communication software, then we are sure that you would have come across the two popular Voice-over-Internet Protocol applications, Teamspeak, and Discord. Both software offers similar functions, and you are probably confused about which one is better for you. Don't worry, this Teamspeak vs Discord will help you to decide which one of the two is made for you. Continue reading.
What is Teamspeak?
Teamspeak is a VOIP application used as a sturdy audio communicative tool since 2002. Gamers mainly use Teamspeak to communicate with other gamers, but generally, it is a communicative tool for everyone. Whoever you are, Teamspeak can cater to you.
It offers features like high-quality sound chat, text chats, and customizations, making it a popular choice as a diverse communicative tool. Apart from these features, Teamspeak offers the features to share and store files.
What is Discord?
Discord is also a VOIP that was first introduced in 2015 and quickly gained popularity with its advanced features. These features have made it a favorite among gamers and businesses. It is known for its low latency and clear voice communication. Apart from the audio communication feature, Discord offers features like text messaging and content sharing.
Discord also offers a variety of servers that people of the same interest can join. Discord might be similar to other audio communicative tools like Skype, but its versatility is why it is far ahead of its competitor within a short time.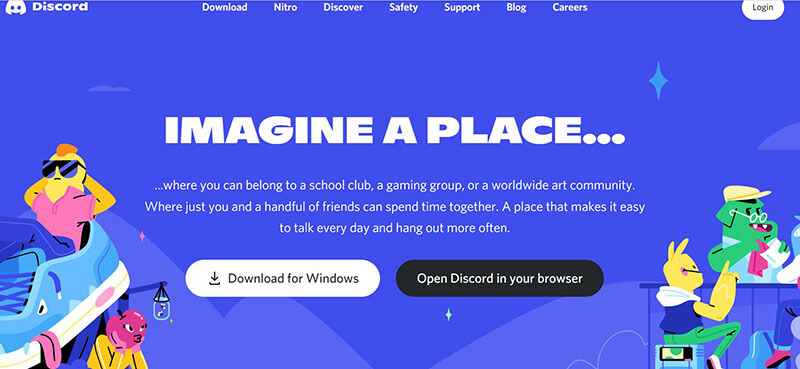 Discord Vs. Teamspeak: Features
When it comes to Teamspeak vs Discord, then it is important to know about the features these applications offer.
Discord Features:
Audio Communications
One of Discord's main features is an audio communication tool. This feature is used mostly by gamers and teams looking to communicate online. The Discord offers fine sound quality without any disruptions.
Text Messaging
Apart from the audio communication feature, Discord also allows you to chat with team members in a group, server, or individually. The text massaging feature allows users to share stickers, files, photos, and videos. The text massaging feature has made Discord a reliable tool for businesses to maintain effective communication.
Screen Sharing
Discord also allows screen sharing on desktop and mobile easily. You can hold a conference meeting or check issues on others' computers with this feature.
Servers and Channels
Discord offers the server feature which is a virtual room to store all your invited members. You can create channels on the server. The channels can be used for voice or text chatting. You can create different channels based on your interest or any other categories.
Video Call
This feature allows you to connect with other gamers worldwide in real time, making it a great way to stay in touch with friends or collaborate on game projects. The video call feature is also useful for tutoring and holding business conferences, as you can share your screen with others for a more immersive experience. Discord offers high-quality audio and video, making the calls smooth and lag-free. If you are video calling in the server, then be mindful that at a time, only 25 people can join the video call.
Teamspeak Features:
Audio Communication
Teamspeak, like Discord, also offers audio communication for gaming or other purposes like a virtual meeting. Teamspeak takes pride in offering the best sound quality, so your experience with Teamspeak goes smoothly.
Text Communication
Besides audio communication, Teamspeak also offers text communication with teammates and friends. You can share the videos and photos with them in the texting feature.
Customization
Teamspeak offers customization which allows the users to integrate various plugins. If you are looking for communication software that you can design and customize yourself, then give Teamspeak a go.
File Storage and Transfer
Teamspeak also allows you to store and exchange files with others. The file storage and transfer feature has made Teamspeak equally popular among people looking for fine software to communicate with their clients or teammates.
Teamspeak is Better than Discord in:
Sound Quality
Regarding the TeamSpeak vs discord voice quality, Teamspeak is better than Discord. Discord has decent voice quality, but according to the different reviews, Teamspeak is still better than Discord.
More Security
Teamspeak offers more security than Discord as it doesn't share your information with a third party and has a robust permission system so you can decide everything by yourself.
Unlimited File Transfer
Both Teamspeak and Discord offer file transfer and storage features, but what makes Teamspeak the winner in this aspect is that it offers unlimited file transfers. The unlimited file transfer feature makes it suitable for people who have to share heavy numerous files each day.
More Customizations
Teamspeak also offers numerous customization by allowing the integration of different plugins, while Discord offers limited plugin installation.
Discord is Better than Teamspeak in:
More Features in Free Version
One of the best features that makes Discord ahead of Teamspeak is allowing almost all the advanced features in its free version. You can run Discord perfectly without spending even a penny.
Easy to Use
Discord has a user-friendly interface making it easier to use than Teamspeak. Even a beginner with no knowledge of these applications can master Discord quickly.
Video Calls and Screen sharing
Discord offers a video call and screen-sharing feature, which Teamspeak doesn't yet support. So if you are looking for communication software that allows video calls and screen sharing, give Discord a go!
Free Servers
Discord offers free servers, while Teamspeak offers them at a price.
Teamspeak Vs. Discord: Price
Here are the different tiers offered by the Teamspeak
| | | |
| --- | --- | --- |
| Server slots | Virtual Servers | Yearly price |
| 64 | 1 Virtual server | $55 |
| 128 | 2 Virtual server | $100 |
On the other hand, Discord offers many features in its free version, but it also offers its paid plan, Nitro which costs $9.99 per month or $99.9 per year.
When we look at the pricing plan and the features offered in these two applications, Discord is the winner as it provides more features and flexibility in its paid version than that Teamspeak.
Teamspeak Vs. Discord: Customer Rating
Here is the customer rating of Teamspeak:
| | |
| --- | --- |
| Google Play | 3.3 |
| Trust Pilot | 2.2 |
Here is the customer rating of Discord
| | |
| --- | --- |
| Trustradius | 4.3 |
| Trust Pilot | 1.6 |
| GetApp | 4.8 |
So, the average rating of Discord is 3.5, while that of Teamspeak is 2.75, making Discord the ultimate winner.
Final Words
So that's all about the Discord vs Teamspeak. A detailed look at these two VOIP applications in Teamspeak vs Discord comparison has shown that both are excellent at providing robust and smooth communication.
If you want communication software that offers more security, customization, and voice quality like no one else, then go with Teamspeak.
And Discord is made for you if you are looking for a free, easy-to-use VOIP application that offers video calls and screen-sharing tools! We hope our article will help you to decide the best for yourself.
You May Also Like:
Discord Vs WhatsApp: In-Depth Expert Review
Slack Vs WhatsApp: What Suits You Better?