6 Proven Ways to Fix WhatsApp Message Not Delivered
Experiencing the WhatsApp message not delivered issue after sending messages to a contact? Check out this guide to learn the reasons behind the delay and find out the techniques that can help resolve the issue.
WhatsApp ensures a secure and quick delivery of messages on the platform. However, users may experience delivery issues occasionally with some messages.
Users often report delays in message delivery, which can occur due to several technical reasons and in-app glitches. Therefore, it is essential to understand why it happens to effectively handle it.
In this post, we will first discuss the causes and then the various techniques you can use to address the WhatsApp message not delivered issue.
Part 1. What Causes WhatsApp Messages Not to be Delivered?
WhatsApp messages are normally delivered immediately after they are sent. However, some messages experience delayed or failed delivery due to various issues between sender and receiver.
Let's have a look at each side individually:
Reasons from the Sender's Side
You block the receiver: When you block a contact on WhatsApp, you don't receive any messages or calls from their end. Similarly, any messages you send them are not delivered.
Your network is not working well: WhatsApp messages need a strong network connection for delivery. In case of network connection issues, your messages don't get delivered right away. A weak or unstable network often leads to delayed delivery.
Software issues or bugs: Technical glitches, outdated software, or buggy beta builds can hinder your message delivery on WhatsApp. These issues are hard to identify and require thorough assessment.
Corrupt WhatsApp Issues: Some WhatsApp updates or version incompatibilities may affect your message delivery.
Device Problems: Any fault in your device can also cause WhatsApp message delivery issues.
Reasons from the Receiver's Side
The Receiver Blocks You: Your message will not get delivered if the receiver has blocked you. To check if the receiver has blocked you, check if his availability is visible online. Next, check if you can see his last seen timestamp. If there is a single tick for long, you can call that contact and see if the person attends the call. If you are unable to see the last seen status and profile updates, you get a single tick on the sent messages, and you receive no response on the call, it likely indicates that the receiver has blocked you.
The Receiver's Phone is Turned Off: When you send messages to a receiver whose phone is powered off, he can't receive your messages. Until that receiver switches the phone on, your message will not be delivered. You will just see a single tick with your message until the receiver turns on the phone.
The Internet of the Receiver is Disabled: WhatsApp messages are sent over an Internet connection. Without network access, the receiver cannot receive the messages you send. So, until they turn on their internet, your messages display a single tick.
The Receiver Uninstalled WhatsApp: If the receiver has uninstalled WhatsApp or deactivated the account, all the messages that you send don't get delivered. However, there is no way to check if the receiver has deleted the account other than asking directly.
Note: It is important to understand that you can only control your own device and WhatsApp account. You can't manage the activities on the receiver's end. Therefore, we have covered some effective techniques in the next section to fix WhatsApp messages not delivered problems that occur on your side.
Part 2. 6 Effective Ways to Fix "WhatsApp Messages Not Delivered"
WhatsApp message delivery is affected due to several reasons discussed in the previous section. Fortunately, you can apply some easy and quick solutions to fix most of your WhatsApp messages not delivered to the contact issues.
Try the following ways to tackle WhatsApp message sent but not delivered to the receiver issues:
Way 1. Switch to A Stable Network
One of the most common reasons why messages over any online platform aren't delivered is the quality of the network. So, WhatsApp messaging also needs a stable network connection.
Therefore, if your WhatsApp messages are not getting delivered, you must switch to a better connection. You can switch to mobile data from the Wi-Fi connection or vice versa. You can even try restarting your router for better message delivery.
Way 2. Unblock the Receiver
If you are trying to message a blocked contact, your messages will not get delivered. Therefore, it is advised to verify your blocked contacts list and unblock the forgotten friends.
To unblock your receiver on Android, use the following method:
Launch WhatsApp.
Click the three vertical dots in the top right.
Open Settings and click Privacy.
Scroll down to the Blocked Contacts option and tap it to open and see the list.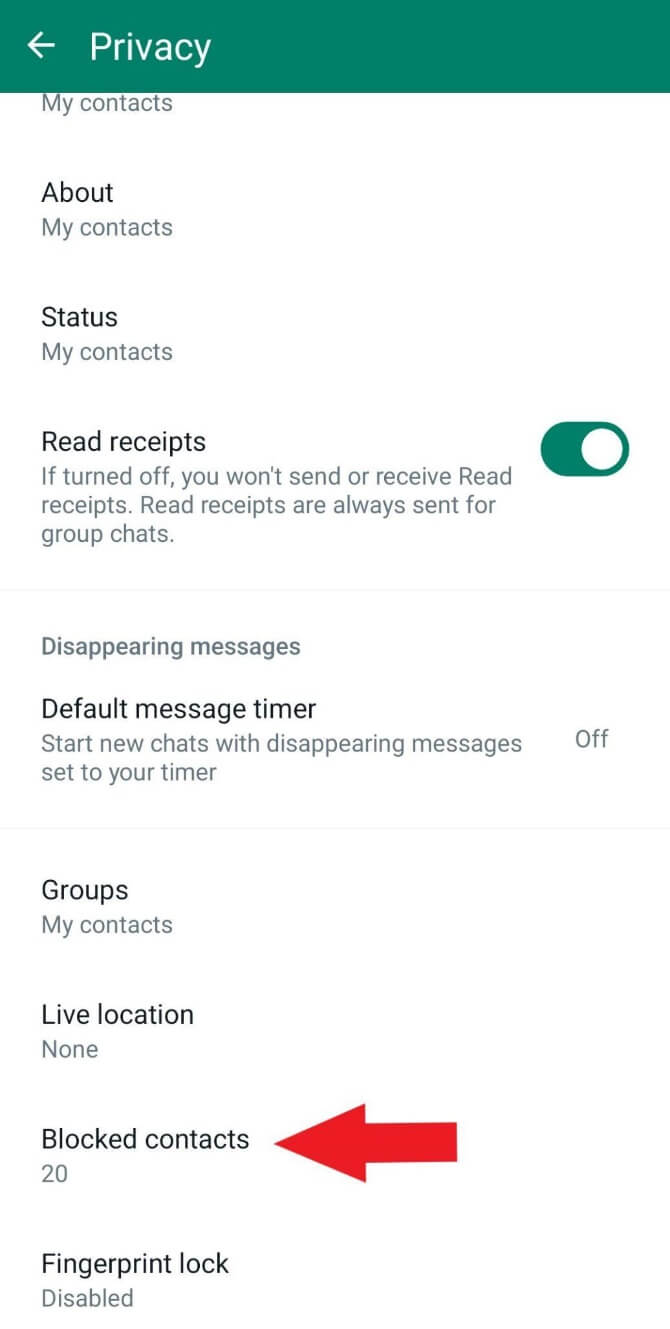 Click the contact's name and press Unblock.
If you have an iPhone, follow the given steps:
Open WhatsApp.
Go to Settings.
Click Blocked to check the complete list of contacts.
Swipe left on the contact's name.
Tap the Unblock button that appears to remove your receiver's name from the list.
Way 3. Update and Reinstall WhatsApp
If you are running an old and outdated WhatsApp version, it could be the reason behind the WhatsApp message sent but not delivered. Also, any technical glitch or bug in the app may be hindering your message delivery.
Therefore, you need to fix this issue by updating your WhatsApp or reinstalling the app. Try to update the app using the following method:
Go to the App Store (for iOS) or Play Store (for Android).
Type WhatsApp in the search bar.
Click UPDATE next to WhatsApp if you get it.
Installing the updates successfully takes some time, depending on the internet speed. Once the installation is complete, open WhatsApp and see if the messages have been delivered or not.
For reinstalling WhatsApp, you can follow the steps below:
Navigate to WhatsApp's App Info.
Click the Uninstall button under the app logo.
After the app gets removed, go to the Play Store or App Store.
Type WhatsApp in the search bar.
Select WhatsApp from the results menu.
Press the install button.
Way 4. Clear WhatsApp Cache
Cache enables the apps to run faster on your device. However, some apps can corrupt or bloat over time.
Therefore, another method to fix WhatsApp messages not delivering to your contacts is clearing the WhatsApp cache. It helps delete temporary and useless files without messing with other system data.
Clearing the cache troubleshoots many WhatsApp issues. You can clear your WhatsApp cache by using the following steps:
Open Settings on your phone
Go to Applications.
Locate WhatsApp in the list and tap Storage and cache.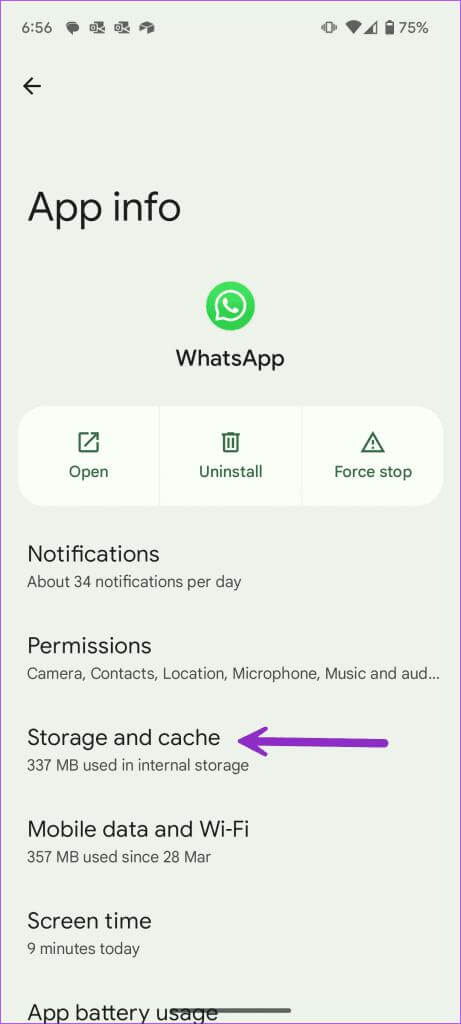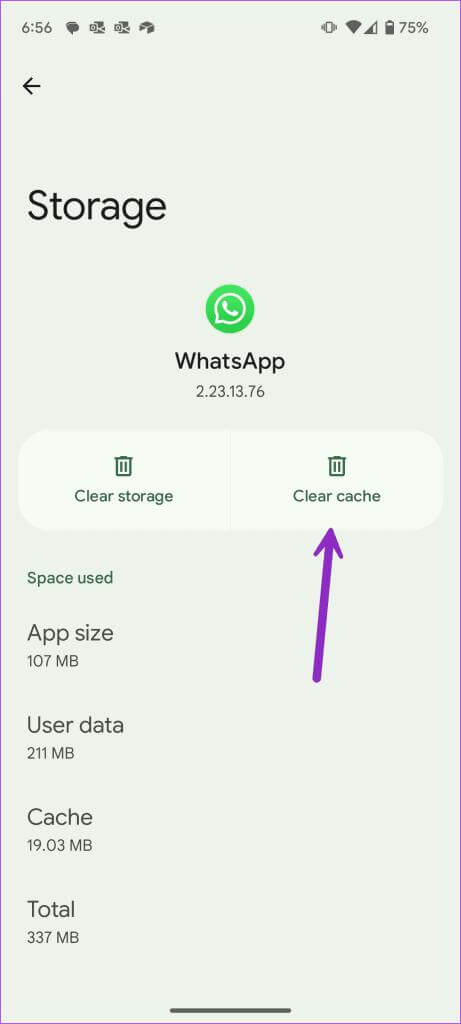 Close the app and restart WhatsApp.
Way 5. Restart Your iPhone/Android
Different apps, activities, and updates may slow down your phone. If this happens, you may experience issues while using some apps. This could be the reason why WhatsApp message not delivered to your contact.
Here will take the guide of restarting iPhone as an example.
Restarting your iPhone resets the cycle and solves many minor issues. Follow the instructions given next to restart your iPhone:
Press and hold the Volume Up/Down button and side button until you see the power slider.
Swipe the Power Slider button on the screen.
Wait for 30 seconds to make the iPhone turn off completely. Afterward, press the side button until you see the Apple logo.
Way 6. Update Your iPhone/Android System
Outdated iPhone system may also be the reason behind failed message delivery. Therefore, updating your iPhone can help you in case WhatsApp message not delivered but not blocked.
You can follow the given instructions to update your iPhone system:
Open the Settings on your iPhone.
Go to General.
Select Software Update. From there, select the update you want to install.
Click Download and Install and confirm your choice.
The steps for Android devices are similar.
Part 3. FAQS About WhatsApp Messages Sent But Not Delivered
Q1. Why Are My WhatsApp Messages Not Delivering to One Person?
If your WhatsApp messages are not being delivered to only one person, there could be four main reasons, i.e., network issue, phone turned off, WhatsApp deactivated, or you are blocked.
Q2. Why Is WhatsApp Message Not Delivered But Not Blocked?
If your WhatsApp message is not delivered and you have not been blocked by the contact, there could be a network issue on either side. Besides that, your contact could have powered off the phone or deactivated the WhatsApp account. This is what causes WhatsApp messages not to be delivered.
Q3. Why is a WhatsApp Message Delivered But Call Not Ringing?
The main reason why your WhatsApp messages get delivered but your phone displays calling instead of ringing is because your contact either has no stable internet connection or has switched off the device right after message delivery. Another reason could be the loss of network connection at your side after delivering the message.
Q4. Why is The Person Online But the Message is Not Delivered on WhatsApp?
If you can find the person is online but the message is not delivered on WhatsApp, it could be a technical glitch or connectivity issue. You should check your network connection and switch to a better connection.
Conclusion
WhatsApp messages require a strong network connection for delivery. If you send a message to a contact and it doesn't get delivered, there could be several reasons behind it.
This guide has explained all possible reasons behind the WhatsApp message not delivered problem, such as weak internet connection, outdated apps, technical glitches, device issues, and internal bugs. Therefore, follow the six different techniques one by one until the message delivery issue gets resolved.
Moreover, it is recommended to back up WhatsApp chats and important data using Dr.Fone – WhatsApp Transfer before using the above methods to avoid unintentional data loss. So, make a backup and head for the above methods immediately.
You May Also Like
How to Create WhatsApp Group Without Adding Contacts? (Detailed Guide)
Failed to Process Video on WhatsApp? 11 Proven Ways
How to Change WhatsApp Notification Sound? (Easy Guide)
How to Fix Not Receiving WhatsApp Messages Unless I Open the App? (11 Proven Ways)