Why Is My Teams Screen Blue or Grey? Fixed!!!
Are you cluelessly staring at your Teams screen turned blue? Check out this tutorial to find the reasons and effective ways to resolve why is my Teams screen blue issue.
Microsoft Teams is a handy collaboration tool for business professionals, remote workers, and students with instant chat and file-sharing options. However, some users have experienced the Teams screen appearing blue or grey while trying to access or share files.
The change in the Teams screen can be caused by corrupted files, an outdated driver, or a tiny bug within the app. Therefore, this article discusses reasons of why is my Teams screen blue issue and simple tricks to help you fix them quickly.
Why Is My Teams Screen Grey or Blue?
Teams screen often turns grey or blue on the Files tab in different scenarios. Users mostly report this problem when they try to open documents and files in the Teams app. Several different factors may cause the issue on Teams.
Here is the list of reasons that can turn your Teams screen grey or blue:
A bug within the app
Temporary account glitch
Double-clicking files on Teams
Corrupted Teams cache
Outdated software
Faulty configuration files
GPU hardware acceleration
Incompatible display drivers
Besides the above reasons, there may be other specific reasons in your case. However, it is a fixable issue. Read the next sections to resolve why is my Teams screen blue issue.
How to Get Rid of Blue or Grey Screen in Teams?
Microsoft Teams comes with certain technical and functional glitches like every other app available. These glitches are frustrating to handle for users regardless of the platform. Similarly, the blue or grey screen issue on Teams can disrupt your entire workflow and affect your performance seriously.
If your screen in Teams appears blue or grey and makes you wonder how to get rid of blue or grey screen in Teams, you can fix it using simple techniques. You can try the following methods:
7 Quick Tips to Fix Blue or Grey Screen in Teams
Many users report getting a blue screen on Teams when they double-click a file to open it. If you ever face a similar issue, click anywhere on the Teams search bar to get the screen back to its normal state. Also, make sure to single-click on the file to avoid this issue in the future.
Whenever your Teams app displays a blue screen, you must restart your Teams app first. Although it is a simple method, it works in many cases.
Press Ctrl+Alt+Del together to open Task Manager. Go to the Processes tab and pick the Microsoft Teams task. Next, hit End Task and restart the Teams app.
If you are using an outdated version of Teams, it may cause the blue screen issue. You can fix it by updating your Teams app.
Open Microsoft Teams and click on the three horizontal dots at the top-right corner. Choose Check for Updates, and the application will set the system by installing pending updates available.
Disable GPU Hardware Acceleration
The GPU hardware acceleration feature often comes pre-enabled in Teams to boost the app performance and enhance your experience. However, this feature may misbehave based on your computer hardware. Therefore, it is advised to disable GPU hardware acceleration in Teams.
Launch the Teams app and press the three horizontal dots in the top-right corner. Select Settings and then the General tab. Next, check the Disable GPU hardware acceleration box and restart the Teams app.
In some cases, switching to a new theme in Teams can cause the blue screen issue. If you have recently changed your theme, you should switch to the default theme.
In your Teams app, click on the three horizontal dots at the top-right corner. Click on Settings and then go to the Appearance and Accessibility tab. Next, pick the Default option under Theme and reopen the app.
Log out and Log In to Teams
A temporary glitch in Teams may sometimes cause the screen issue. In this case, you can try to fix the problem by logging out of your account and signing in again to check if the issue has been fixed.
Launch the Microsoft Teams app and click on your profile picture to open the account options. Select Signout to log out of the Teams app from your device. After this procedure, you will be returned to the Teams home page, where you can log in again by entering your credentials.
If your issue persists, it could be due to the corrupted app, which can't be fixed by changing the application configuration. Therefore, you can try to uninstall and reinstall the Teams app on your system.
Press the Windows button + X simultaneously to open the power user menu. Tap Installed Apps and navigate to the search box to find Teams. After it appears in the list, press on the three horizontal dots next to Teams. Now, press Uninstall and exit Settings. To reinstall, type Teams in the Microsoft Store and click on Install.
2 Professional Ways to Get Rid of Blue or Grey Screens in Teams
Other than the conventional techniques, there are two professional ways on how to get rid of blue or grey screens in Teams. These professional methods include clearing the Teams cache and updating the drivers.
So, let's now discuss both these methods to address the Teams screen blue/grey issue:
1. Clear Teams Cache
In the majority of cases, the blue overlay may be occurring due to corrupted cache files. Teams app caches different categories of data offline to improve efficiency. You can delete these files stored locally on your device.
Follow the given steps to clear your Teams Cache:
Launch the Teams app.
Press the arrow icon in the taskbar and right-click on the Teams icon from the system tray.
Click on Quit to exit Teams.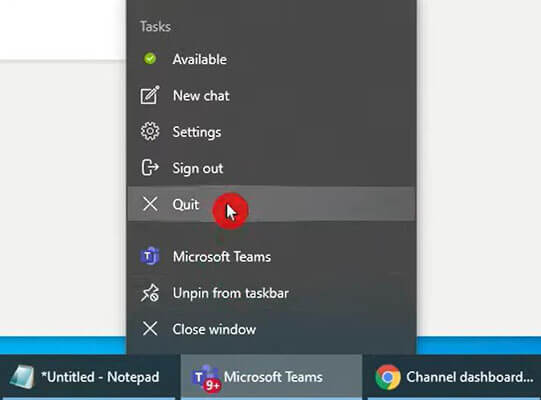 Right-click on the Start button and select Task Manager.
Scroll down in the Task Manager processes to check any Microsoft Teams process running in the background.
Right-click on Microsoft Teams, then press End Task and close the Task Manager.
Press the Windows button + R keys together to open the Run utility.
Type "%appdata%\Microsoft\Teams" in the box and press OK.
Select all Teams files with your mouse in the folder that opens up.
Tap the recycle bin icon to empty the folder and close it.
Open the Teams app again and see if it works fine.
2. Update Driver
Outdated or faulty graphics drivers can cause various glitches, including blue screen issues on Teams. If you have corrupted or outdated drivers, you will most probably experience this problem. Therefore, you should update your graphics drivers to resolve this issue.
To update your drivers, follow the steps mentioned below:
Press the Windows button + I to open Settings.
Pick the Update & Security Option from the Settings.
In the Windows Update, check for new or pending updates and install them.
Alternatively, press the Windows button + X keys together or type in the search bar to open the Device Manager.
Find Display Drivers and press the arrow to expand the list.
Right-click on the driver of your system.
Select the Update Driver option.
Restart your computer to bring the latest version to effect.
That's it! This way, these professional methods will help you resolve your Teams screen grey or blue problem.
Final Words
Microsoft Teams display glitches can bring down your productivity and overall app experience. If your screen ever turns blue or grey while accessing documents in the Teams File tab, then don't panic. Why is my Teams screen blue is a common question asked by many Teams users. So, all you have to do now is simply follow the tips and tricks discussed in this guide to get rid of the blue/grey screen on Teams easily.
You May Also Like
8 Fixes for Teams Status Not Updating (All Cases)
How to Fix Teams Microphone Not Working? All Cases Are Here!