ClickUp Vs Todoist: A Complete Comparison
ClickUp is a versatile project management tool suitable for every business, while the Todoist works well to accomplish your daily task. So if you are confused between ClickUp and Todoist, then the comparison of ClickUp vs Todoist will help you decide which one is better for you.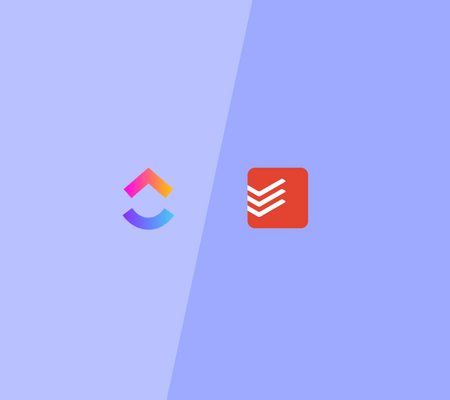 ClickUp is a powerful yet easy-to-use project management tool that helps teams of all sizes stay organized and on track. Whether managing a complex marketing campaign or trying to get some freelance tasks done, ClickUp has the tools you need to keep your team productive and your projects on track. With features like task prioritization, progress tracking, and dynamic comment threads for discussions and collaboration, ClickUp makes it simple for teams of any size to collaborate effectively and complete tasks efficiently. So if you're ready to improve your productivity with an intuitive, cutting-edge project management solution, look no further than ClickUp.
Todoist is a powerful task management tool that makes it easy to organize your daily tasks, both large and small. With its user-friendly interface and streamlined functionality, Todoist lets you create task lists, schedule tasks for specific times or dates, share lists with others, set reminders, and more. Whether you are working on a project at work or simply trying to remember the items on your to-do list, Todoist can help you stay organized and get more done in less time.
So, an overview of this two software suggests that both tools are excellent in task management. But one may work better than the other in some cases, so to decide which is better for you, read this complete comparison of ClickUp Vs Todoist.
Todoist vs ClickUp: Features Comparison
If you are confused between ClickUp and Todoist, the first important step is understanding the features offered by this two software. Let us first have a look at the features offered by the ClickUp:
ClickUp Features
Task Management
ClickUp offers a robust task management feature with various sub-features under it. You can create a task, divide it into different subtasks, and assign it to your team members by adding a due date during which it needs to be completed. A task prioritization and customization feature make ClickUp the king of task management.
Docs and Chat Feature
ClickUp offers the docs feature, which you can share with other team members and discuss ideas or make changes as a team. It also offers a chat feature that can help you communicate with your team members with ease. The doc feature and the chat feature make ClcikUp an excellent collaborative tool.
Whiteboard
One of the distinctive features offered by the Clickup that is lacking in the other project management tools is that it offers the whiteboard feature, which you can use to share and execute ideas. It can also be used for teaching purposes or giving presentations.
Dashboards
ClickUp also offers the dashboard view in multiple forms, which helps you visualize the team performance and helps the project managers maintain a smooth workflow. The dashboard is effective for resource management and tells the performance of individual team members through the sprint view.
Let us now have a look at the features offered by the Todoist:
Todoist Features:
Task Management
Todoist is a management software that is primarily based on task management. You can add a task and the due date during which it needs to be completed and assign it to the relevant resources. You can also add a task and its due date for yourself if the task has to be done by you.
Task Prioritization
Todoist also offers a task prioritization feature, which helps you prioritize the more important tasks. This excellent feature is liked by many of the Todoist users.
Board
Todoist also offers the board view, which helps you to visualize the performance from a glance. You can also add a kanban board by using its customization features.
Reminders
Apart from task management, Todoist also offers a reminder feature that informs you about the task's due date or completion.
What Are Similarities Between ClickUp and Todoist?
Todoist and ClickUp offer many similar features; here is a list of them:
Task Management
Both Todoist and ClickUp offer task management features and have similar sub-features, such as task prioritization and adding a timeline to the assigned task during which it needs to be completed.
Dashboard View
Both the management software allow you the dashboard views to maintain a smooth workflow without disruptions.
Templates
One of the best features ClickUp and Todoist offer is their template feature. Both the management software has hundreds of templates you can choose according to your requirements. This saves time as you don't have to customize everything for a specific project. All you have to do is choose a template and make minor changes to it to make it a perfect match.
What Are the Differences Between ClickUp and Todoist?
ClickUp and Todoist offer many similar features, which may lead to confusion when deciding between Todoist and ClickUp. These mentioned below differences will help you to know their difference so you can choose one of them:
Automation
ClickUp has an advanced automation feature that helps you automate your work and enhance your productivity. ClickUp has more than 100 ways to automate your work. You can automate your work to a limited extent by integrating apps and installing plugins. If we talk about Todoist, we can not find any robust automation feature. So, the automation feature is provided by ClickUp only.
Whiteboard
ClickUp is a project management tool that loves to offer collaborative features. It recently came up with the Whiteboard feature that the team members can use together to generate and execute their ideas in one meeting. This amazing whiteboard feature is absent in the Todoist.
Chat
Another collaborative feature offered by ClickUp is the chat feature, where you can chat with your team members individually or in a group. The Todoist doesn't support this feature.
Time Tracking
ClickUp offers a time tracking feature, while the Todoist doesn't support this feature yet.
ClickUp Vs. Todoist Review: Platforms Supported
ClickUp supports the platforms like IOS and Android and desktops like Mac, Windows, Linux, and chrome extensions.
Todoist, on the other hand, supports various platforms like IOS, Android, Mac, Windows, Linux, chrome, firefox, opera, safari, and Microsoft Edge. So Todoist is far ahead of Clickup when it comes to platforms supported.
ClickUp Vs. Todoist: Pricing
The ClickUp offers 4 tiers for businesses of different sizes, but the Todoist offers only 2 tiers.
ClickUp comes at $5 per user per month if billed annually and $9 if billed monthly, while Todoist comes at $4 per user per month if billed annually and $5 if billed monthly.
The business tier of the ClickUp comes at $12 per user per month if billed annually, while the business plan of the Todoist comes at $6 if billed annually.
It is obvious that the Todoist is cheaper than ClickUp.
ClickUp Vs Todoist: Customer Rating
The customer ratings for ClickUp from G2, Getapp, and Trustpilot are 4.7, 4.7, and 2.8. On the other hand, the customer ratings of Todoist are 4.4, 4.6, and 4.
Thus the average rating of the ClickUp is 4.1, and that of the Todoist is 4.3, making Todoist more popular and satisfactory to customers than the ClickUp.
ClickUp Vs. Todoist: When to Use
In this ClickUp vs Todoist review, we have covered everything about the features of this two software. If you are still confused, let us make things easier for you by telling you when to use this two management software.
You already know that ClickUp offers much more advanced management and collaborative tools. You should go with ClickUp if you are looking for software that offers management and communication between the team members. After all, it is the management and proper communication that maintains a smooth workflow without interruptions.
You can use Todoist if you are looking for robust task management software. You can manage your task as well as the tasks you have assigned to your teammates. It helps you to assign tasks and constantly reminds you when they need to be delivered so you don't end up delivering late.
Final Words
So that's all about the ClickUp Vs Todoist comparison which shows that ClickUp is a more advanced project management software and can be used by individuals and businesses of any size. The thing which has made ClickUp popular among many project managers is its collaborative and communication feature.
Todoist, on the hand, is simple yet effective. It is more suitable for individuals and businesses who are looking to better manage their different tasks.
We hope our article has helped you to decide which software to choose.
You May Also Like:
10 Best Todoist Alternatives: Better Options for You
Trello Vs Todoist: In-depth Expert Review
Ticktick Vs Todoist 2022: Side by Side Comparison