How to Use Basecamp Effectively for Project Management? (One Guide for All)
Basecamp is a project management tool that is used to efficiently create, manage, track, and monitor the progress of the project team. Here's how to use basecamp.
When it comes to managing teams in a project, the most difficult thing is to keep track of team members and their progress. You might be the guy who opens tons of Google Chrome tabs, a bunch of folders, and a couple of different apps whenever you sign-in to your computer. Well, you don't have to do any of that; Basecamp has your back!
Here's our complete guide on how to use basecamp effectively for project management and what exactly it is!
What is Basecamp Used For?
Basecamp is a project management tool that helps managers keep track of the entire project on a single screen. Wondering what is Basecamp used for? Well, it allows you to create a project, add all your team members, create customized sections (like Message boards, To-dos, Schedules, Project files, Emails, and as many sections as you like), and track the activity of your team.
The Project Activity section shows the entire timeline of assigned tasks. You can keep track of the deadlines and even check out individual progress. Moreover, it also allows you to work on some other software by staying on the Basecamp window. You can open a door to another service by adding the tool you mostly work on, within Basecamp and accessing it with just one click (adding Zoom, Dropbox, GitHub, Google Drive, and Adobe Creative Cloud are just a few examples).
How to Use Basecamp for Project Management?
For project managers, Basecamp is one of the handiest tools that allow them to keep track of the cumulative and individual progress of the project.
In order to use Basecamp, you can use its online portal to access the software through a browser or you can also download the desktop version of Basecamp for your PC or Mac.
And we will show you how to invite people to your company on Basecamp, create and manage to-do lists, post announcements, share projects, chat with your team, and create automatic check-ins.
How to Invite People to Your Company?
Basecamp is all about collaboration with people. So how to invite people to your project or company in Basecamp? Well, it's a simple two-step process; you first add them to your account and then you add them to a specific project. Here's how to do it in steps.
Open Basecamp. Click on Invite people in order to proceed with the process of adding people to your account.
Now, you've to select the type of individual you're inviting to your account. If it's a client, she/he will only be able to view the project, but can not edit or create it. But if you're adding someone as a collaborator, partner, or contractor, they can edit the work and create their own projects.
In the next step, you'll enter the name, email address, title, and type of the individual you're sending an invite to. You can also add more members at a time by clicking on the "green plus" button. Once done with adding details, click on the "Email Invitation now…" button.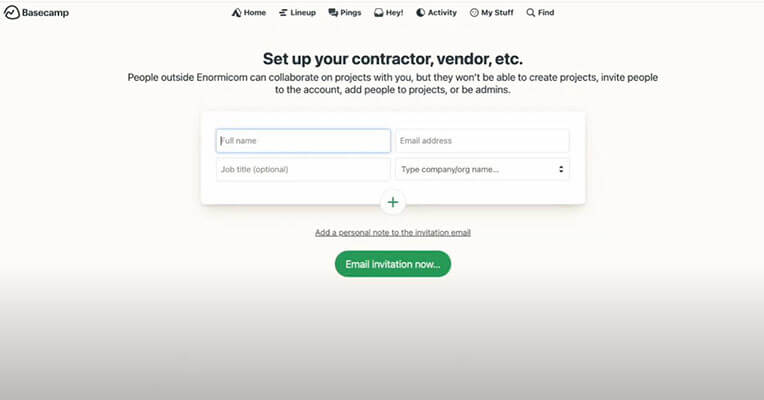 Click on the "Set up which projects they can see" button to set their involvement in the project.
Choose the project in which you want to add them and select between Just following and On the project options. On the "Just following" option, members will be allowed to only view the notifications and updates. But the "On the project" option allows users to interact with the content and make changes. Save changes at the end.
How to Create and Manage To-Do Lists for Projects?
Creating and managing to-do lists is one of the most practical features of Basecamp. It allows project managers to list down their to-dos and manage their routine tasks so nothing gets missed out.
Here's how you can create and manage to-do lists for projects in Basecamp.
Access any of your projects in Basecamp where you want to add your to-do list.
Click on To-dos.
On the top left corner, you'll see a New list button. Click on it to create a new to-do list.
In the next window, name your list, and click on Add this list.
You'll be asked to Describe the newly created to-do list. You'll also need to enter details like to whom you're assigning it to, whom to notify when done, the due date, and some notes for extra information. Once you're done with it, click on Add this to-do.
And that's how easy it is to create a to-do list in Basecamp.
How to Post Announcements for Your Projects?
Posting announcements for your teams in Basecamp is quite an easy task and it allows managers to manage downward communication efficiently.
Here's a step-by-step guide on how to post announcements for your projects in Basecamp.
Go to your project and click on the Message Board.
Add a title and body for your announcement in the given boxes. You can also set up who to share this announcement with by clicking on "Change…".
Once you're done setting things up, you can either save this announcement as draft or click on Post this message to post it.
How to Share Projects Documents on Basecamp?
Sharing your important project files with your team is essential. In Basecamp, you can share your docs and files with your team by following the step-by-step guide mentioned below.
Go to a project, and click on Docs & Files.
On the top left corner, click on New > Make a new folder.
A new folder will be made. Name it and click Save. Click on the newly created folder to open it.
From the top left corner, click on New. Now select the file you want to upload. In our case, we're using Google Drive. Fill out the details about the doc file and continue with the next step.
After filling out the details about the doc file, choose who to notify about this newly added file. Click on Let me choose who to notify… option.
Choose to whom you want to share this newly added doc file and click Save changes.
After clicking on Post this, you'll successfully share your doc file with your team members.
How to Chat With Your Project Teammates?
Despite having an option of Message Board, Basecamp also provides another option of quick chatting which is called "Campfire". You can chat with your project teammates on something that's of a quick nature. For instance, let's say, you want your team's opinion on a certain web-design theme within just a few minutes so you can finalize the web design for the website; Campfire is something you should be looking for.
To initiate a chat with your project teammates, here are the steps you need to take.
On the homepage of your project, click on the card that says Campfire.
A new window will open up where you can send a quick message to all the members of that particular project.
It's just like a group chat and texts are in threads format where you can react to the messages or send a GIF.
.
Note: Many people confuse Pings with Campfire; both are totally different options. Pings are like direct messages to an individual regardless of being under a certain project. The Campfire, on the other hand, is like group chats where individuals from only a specific project can see, react, and respond to a message. So, you can choose the one you need based on your needs.
How to Create Automatic Check-ins?
Lengthy and unplanned meetings are always hectic to attend, right? Well, this is where Basecamp's Automatic Check-in feature is. It allows you to gather updates from every member of your organization by asking predefined and scheduled questions.
Here's how the Automatic Check-ins feature works.
First of all, you need to toggle on Automatic Check-ins within the Basecamp. Click on the 3-dots menu from the top right of the screen.
Select Change tools, and scroll down to see Automatic Check-ins. Toggle it on.
Click on the Automatic Check-ins card you have just toggled on. Click on New Question from the top left corner.
Enter all the details about the recurring question, like what exactly is the question that you want to ask, the frequency of asking the question, and the time of the day.
You can also mention to whom you want to ask the question. You can select all to send the question to all the members of your project. You can also manually select a number of individuals to whom you want to ask this recurring question. Once done, click on Start collecting answers.
From a team members' point of view, they'll receive a reminder regarding the question. They can access it from the Hey! menu of the Basecamp and reply with a reasonable response.
Final Words
Basecamp is an extremely beneficial tool for project managers. It helps them keep track of their entire project. If you're new to Basecamp and wondering how to use the tool, this blog will cover almost every section of creating and managing a project in Basecamp.
In this blog, we have shared a step-by-step guide on how to invite people to your company on Basecamp. We discussed how to create and manage to-do lists for projects, how to post announcements for your projects, how to share documents on Basecamp, how to chat with your project teammates, and lastly, we discussed how to create automatic check-ins.
Hope this guide can help you use Basecamp much easier.
You May Also Like
5 Best Basecamp Alternatives (Research Done for You)
Basecamp Vs Notion: A Complete Comparison