Monday Vs Teamwork: Which One is Best Suited for Your Team?
Not sure whether to choose Monday.com or Teamwork for effective project management? Don't worry, read below a detailed Monday vs Teamwork comparison to know more about them and select the best platform.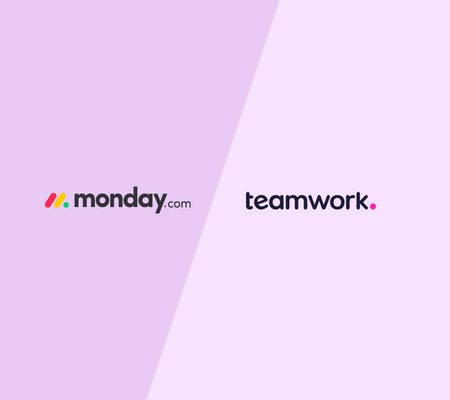 Project management is the art of getting things done right and on time. However, even the world's biggest organizations often fail when it comes to organizing their projects efficiently.
To address this issue, companies are rapidly adopting project management tools like Monday.com and Teamwork to increase their team productivity and efficiency. Check the below Monday vs Teamwork comparison and select the best system to better organize your projects and achieve operational efficiency.
Let's get started.
What is Monday?
Monday.com is a cloud-based work management software known for its intuitive interface, versatility, and outstanding features. Professionals from the world's leading organizations use Monday.com to shape their workflows, organize their ad campaigns, and manage their projects from a single dashboard.
This robust Work OS offers no-code building blocks where you can layer the industry-specific products and customize your task views. Besides, you can streamline your project management operations by integrating Monday.com with third-party tools. The platform also works as a CRM enabling marketers and project managers to manage video production, identify bugs, and meet their client's expectations.
Read: 10 Best Monday.com Alternatives: Features, Advantages, Price, and More
What is Teamwork?
As the name suggests, Teamwork is one of the world's leading project management solutions with a deep range of custom features. The software enables team leaders and project managers to monitor the real-time progress of their projects, manage workload, and track time. Besides, it provides its users with actionable insights to make data-driven decisions and calculate billable hours with 100% accuracy.
No matter how big your project team is, Teamwork gives you the ability to see everything from a single dashboard and effortlessly manage your employees. From task management and budgeting to resource allocation and time tracking, Teamwork has everything projects managers need to deliver projects on time.
Teamwork Vs Monday: Interface
When it comes to the user interface, no one comes near Monday.com. The real strength of Monday.com lies in its intuitive, colorful, and visually-appealing interface that offers wide customization capabilities. Unlike boring and text-saturated interfaces, Monday.com has a gorgeous and best-looking interface that allows users to easily manage their work, create boards, and build customized dashboards.
Besides, the Monday.com interface also gives your different visualization choices such as Kanban view, timeline view, Gantt charts, calendar view, and maps view. What's more, the interface design of Monday.com is clear and clean. Users don't need advanced training to fully understand this platform.
On the other hand, Teamwork has a very simple and straightforward user interface with streamlined project views. It gives project managers an intuitive navigational experience and more clarity in their workday. Recently, Teamwork also introduced several UI enhancements and visual updates to make its interface cleaner and leaner.
For instance, the platform removed the project logo to simplify the Project and Home areas. Similarly, the background color was also removed to clean up the project categories which makes it easier for users to view and manage their tasks. Additionally, Teamwork also added a Planning area and time-saving enhancements that offer consistency, better control over views and filters, and an improved project header.
Monday.com Vs Teamwork: Features
Let's compare the features of Monday.com and Teamwork and identify their similarities and differences:
Similarities in Features
Kanban Board: Both Monday.com and Teamwork allow their users to structure their tasks in Kanban boards, update their work in real-time and move the boards once tasks are finished.
Templates: Users can access a wide range of built-in templates or create their custom templates on Monday.com and Teamwork.
Time Tracking: The time tracking feature of Monday.com and Teamwork makes it easy for project managers to monitor the time spent on each task and set realistic project deadlines.
Customized Dashboards: Build personalized dashboards to get a visual overview of key project metrics and make data-driven business decisions with Monday.com and Teamwork.
Team Collaboration: Live collaboration feature of Monday.com and Teamwork allows team members to co-edit their documents in real-time, share content, give feedback, and keep all important files in one place.
Automation: Both Monday.com and Teamwork enable project managers to save precious time and make their teams more efficient by automating repetitive tasks.
Differences in Features
Views: Monday.com allows users to view their projects in Kanban boards, charts, files, timeline, workload, maps, Gantt, and calendar while Teamwork offers Kanban boards, table view, and calendar view only.
Doc Management: With Monday.com, you can embed boards, videos & images, and dashboards with your documents. However, Teamwork lacks this functionality.
User Interface: The user interface of Monday.com is visually-appealing, colorful, and intuitive, while Teamwork offers a simple and straightforward interface.
Unlimited Client Access: Teamwork gives you the freedom to add unlimited client users for free and control their privacy. However, Monday.com offers limited custom privacy options to client users and costs you more.
Monday.com Vs Teamwork: Free Version
Monday.com
Teamwork
$0
$0
1. 2 team members
2. 3 boards
3. 300+ templates
4. 20+ column types
5. Mobile apps
6. Unlimited documents
7. 1-week activity log
8. 1000 items
9. 500MB storage
10. Kanban view
1. 5 users per plan
2. Time tracking
3. Limited workload management
4. Mobile & desktop apps
5. Task list templates
6. Project-specific subtasks
7. 100 automation actions per month
8. Dashboards
9. 100MB storage
10. Different views
Monday.com Vs Teamwork: Paid Version
| | | | |
| --- | --- | --- | --- |
| Monday.com | | Teamwork | |
| Basic | $10 seat/month | | |
| Standard | $12 seat/month | Deliver | $13.99 user/month |
| Pro | $20 seat/month | Grow | $24.99 user/month |
| Enterprise | Custom quote | Scale | Custom quote |
Monday.com Vs Teamwork: Customer Rating
Check out the customer ratings of Monday.com and Teamwork:
| | | |
| --- | --- | --- |
| | Monday.com | Teamwork |
| G2 | 4.7/5 | 4.4/5 |
| GetApp | 4.6/5 | 4.5/5 |
| TrustRadius | 8.6/10 | 8.7/10 |
| Software Advice | 4.5/5 | 4.5/5 |
| Capterra | 4.6/5 | 4.5/5 |
Teamwork Vs Monday: Which One is Better for You?
The above comparison between Monday vs Teamwork provided detailed insights into the feature similarities and differences of these two popular platforms. Monday.com wins the race in terms of intuitive and visual interface, a wide range of features, price, and customer ratings. We highly recommend you to choose Monday.com in this battle.
You May Also Like
Teamwork Vs Basecamp: Which Is Right for You?
ClickUp Vs Teamwork: Side by Side Comparison